NPFL
Onuwa eyes MFM's improvement following recent struggles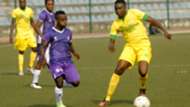 MFM midfield maestro Chukwuka Onuwa believes the team will 'catch up' following another underwhelming display against Kwara United on Wednesday.
In a game bereft of the usual fluid football accustomed to the Lagos side, it took a bit of luck to see them secure a 1-0 victory over John Obuh's charges.
A mistake from Kwara goalkeeper Jonah Usman handed Adebayo Waheed the match-winning strike over an impressive Harmony Warriors at the Agege Stadium.
But the midfielder is confident that they will come good, and are taking the process 'step by step'.
"We have some new players in the team, we will try to catch up together," Onuwa told Goal.
"Unlike our performances last season, this season will be a great task for us because we are playing in the continent so we just try and keep on winning as much as we can but we know by God's grace, we'll try our best in the next game.
"Football is step by step. We are going to take the games gradually. The next home game is about FC IfeanyiUbah so we need to work towards that as well. We just need to keep maintaining our superb home form and keep trying to get away points as well.
Onuwa reckons Kwara United put out an 'excellent' performance and were hard done by Waheed's goal.
"Excellent," he said. "They lost their first game of the season at home and the kind of motivation they came with today is very high," he continued.
"They really tried their best but I believe we were just destined to defeat them."
The diminutive midfielder was stretched off in the second half of the game due to an ankle injury. Set to miss Sunday's tie against El Kanemi Warriors in Maiduguri, Onuwa expects to be fit in time for FC IfeanyiUbah's visit on Wednesday.
"We will confirm soon. The medical team will tell me how long I'm going to sit out. I want to come back quickly before IfeanyiUbah game," he said.
"Because I'm not used to having injuries but this is an ankle injury and I give myself one week because I need to come back fully fit against IfeanyiUbah."