NPFL
Ogunbote: Rangers have no revenge plans against Lobi Stars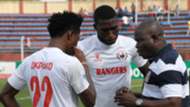 Enugu Rangers will not attempt to seek any revenge on Nigeria Professional Football League leaders, Lobi Stars on Sunday evening at the Nnamdi Azikiwe Stadium, Enugu when they slugged it out in a mid-season test, Gbenga Ogunbote has insisted.
Both teams have met twice in the league this season and the Pride of Benue have a bragging right over the Flying Antelopes with two wins including the famous 2-1 win against the same team in Enugu at the beginning of the season.
In a brief chat with Rangers coach, Ogunbote ahead of the test game, he pointed out that his players will face Lobi Stars, not with the intention of seeking revenge but that they will like to gauge the level of their preparations for the resumption of the league against a top team in the Pride of Benue's calibre.
He recalled that the Flying Antelopes tackled Heartland with the same mission in mind and that he was pleased that his players didn't lose the encounter despite parading some of their feeder team and also making some unpardonable mistakes.
He charged his players to enjoy the game and not be afraid of trying out new things in their resolve to ensure that they nail Lobi Stars this time around.
"I beg to disagree with you that we are out to seek revenge. Over what is the revenge for? Ogunbote asked Goal.
"We have played two good games against and the outcome is there for all to judge. We are playing them again but with the same disposition with which we faced them in both games in the league. We want to face a good side and we feel that Lobi Stars will present us such opportunity.
"The games we have played against them before now is now in the history books and there is nothing we can do about that. We are going with the mentality to play a good game and try to improve on the game and result we had with Heartland in our friendly game with them in Owerri.
"I have told my players to express themselves the way they like and ensure that they give the fans good value for money. We are happy that we getting the right momentum before the league resumption and this game with Lobi will no doubt toughen us the more."
Ogunbote called on Rangers fans within Enugu and outside it to come in numbers to the Nnamdi Azikiwe Stadium and cheer them to a resounding win.
He said their fans have yearned for quality matches such as this one in Enugu and that now that they have the luxury, it will be best for them to show appreciation for it.
"I want to appeal to our fans to come out in their numbers to come and cheer us to a win," Ogunbote added.
"They have been clamouring for this kind of opportunity and now that they have got it, it is best they show appreciation for it. We have prepared a team that will be difficult to be beaten for them and we want them to come and witness the historic game."
Enugu Rangers are 10th in the NPFL log with 33 points from 24 games while their visitors, Lobi Stars are at the top with ten points more with 43 points from the same number of matches.