A-League
From a sparky to a Mariner: NPL record-breaker Jordan Murray's hard work rewarded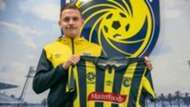 While the impending arrival of eight-time Olympic gold medalist Usain Bolt has stolen the headlines, the Central Coast Mariners' decision to sign three promising National Premier League players has largely gone under the radar.
Jordan Murray, Josh MacDonald and Matt Millar have all earned contracts with club after strong NPL seasons and years of hard work. 
Like Bolt, former APIA Leichhardt striker Murray is himself a record breaker after netting a stunning 23 goals to set a new NSW NPL record last season. 
The 22-year-old has been a promising prospect for a number years and revealed his breakout campaign had its roots in him giving everything he had to the round ball.  
"I did pretty well the year before, ended up scoring 15 goals which isn't too bad," Murray told Goal.
"But I just put my foot down. Explained to APIA and my family that I wanted to give it a proper go. Give my 110 percent and full commitment to football while working as well - which was difficult.  
"I made sure I was playing right, preparing right and mentally right. It paid off and now I've got the opportunity to play for a great team and a great club."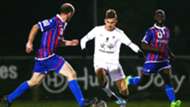 Working part-time as an electrician while playing for APIA, Murray's road to the Central Coast wasn't an easy one.
But rather than bemoan the sacrifices he had to make, the former Wollongong Wolves player is more than willing to make a few more now he's landed an A-League contract. 
"I was working every day and it was tough. I'd work eight-nine hours then I would go to training without even eating," Murray said.
"But that's what I needed to do, there's a lot more people out there that have to do a lot more than me so that's just how I was thinking everything time I was travelling and doing what I was doing - there are a lot more people that have a harder life.
"I just had to make sacrifices to get what I wanted and I'm lucky enough now to have the opportunity. Now I just need to work even harder."
Given two trial sessions to seal a contract with the club, Murray clearly did enough impress coach Mike Mulvey.
The former A-League championship winner with Brisbane Roar has made a point of investing in youth since arriving at the Mariners with Murray stressing how valuable his presence has been.
"He's definitely always confident in making sure you believe in yourself, which for players like me is important," he said.
"Coming into the A-League it is daunting. You watch these players on TV all the time and coming to training with them, it's a great experience, but hard to believe sometimes.
"Mike makes me feel a lot more comfortable and good about myself."
Though admitting his playing style is unique, Murray revealed that Mark Viduka is a player he's always looked up to and can see parallels with.
"Being there at the right time, that was Viduka all over," he said.
"Bit old school, which is the way I like to play - not too much skill just using my teammates to the best of my ability and their ability to get past a player.
"For me Mark Viduka was a huge player to look up to."