WTF
Neymar's sister confirms she's in a relationship with 'new Neymar' Gabigol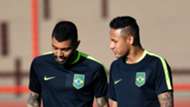 Once dubbed the 'New Neymar' in his home country, Brazilian attacker Gabriel 'Gabigol' Barbosa is now officially dating the sister of his compatriot.
In an unusual twist of fate, the 'New Neymar' is in a relationship with Neymar's sister Rafaella Beckran.
Neymar's magic, it's magical - Pique
Neymar started his career at Santos before moving to Barcelona for £71.5 million, where he has flourished alongside Lionel Messi and Luis Suarez in a three-pronged attack.
Gabigol is also a product of Santos, having won two league titles there before leaving for Europe to join Inter Milan. His first season in Serie A has been underwhelming, but has recently been brightened by developments off the field.
The 20-year-old has scored just once for Inter this season, but has begun a relationship with Beckran which the couple made official on Instagram.
Both partners posted matching photographs on the social media network, with the model's black-and-white shot accompanied by a simple loveheart emoji.