World Cup
'Neymar roughed up and Miranda shove missed' - Marta left pondering the point of VAR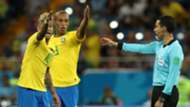 Brazil were held to a 1-1 draw by Switzerland in their World Cup opener, with national icon Marta left questioning the rough treatment of Neymar and the point of VAR.
The Selecao, who are fancied by many to go all the way at Russia 2018, made a slow start in their quest for a sixth global crown, despite opening the scoring in stunning fashion through Philippe Coutinho.
Talismanic forward Neymar never really got going, with the Swiss defenders ensuring that he was given little time and space in which to produce his magic by committing 10 fouls on the Paris Saint-Germain star.
Brazil were left less than impressed by that approach from their opponents, while the failure of the match officials to spot a shove on Miranda by Steven Zubar when restoring parity frustrated those on the field and watching on from afar.
Five-time FIFA Women's World Player of the Year Marta wrote in a column for The Guardian after witnessing events at the Rostov Arena: "Within minutes of our opening game against Switzerland, we could see that this would be a difficult game. The Swiss started aggressively and showed straight away how they were going to handle Brazil's biggest star: Neymar.
"They marked him very tightly throughout the game and made it very difficult for him. You could see that he was getting frustrated with the attention that was given to him, gesturing to the officials to give him more protection. The end result, however, was that he did not have his best game and Brazil's forward play struggled because of it.
"The referee did not help either. Switzerland's equaliser was very controversial and replays clearly showed a push on the Brazil centre-back Miranda by the goalscorer Steven Zuber. To make matters worse, Brazil should have had a penalty in the second half when Gabriel Jesus was fouled inside the box.
"In both those occasions the referee and the video assistant referee (VAR) did not act and review the passage of play and I can't help myself but to ask: why is there a video referee if he or she is not used when there are controversial, match deciding incidents? Also, why, like a review in tennis, is the affected team not able to ask for the decision to be reviewed?"
Brazil will be hoping for a reversal in fortune and a better showing from Neymar when they take in a second Group E fixture against Costa Rica on Friday.