KPL
MP Shah roar to convincing win in Left Foot league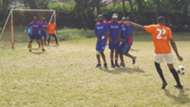 MP Shah roared to a convincing 3-1 victory over Astral Aviaition Limited in a Division Three match of Left Foot league played over the weekend.
Goals from Mark Joe, George Otieno and Ramu Babu ensured that the hospital side bagged maximum points despite Stephen Ayoo pulling a consolation for Astral Aviation in the dying minutes. In other matches of the same category, Young Boys won 2-1 against Shani Active Gym, Kingsway Group beat Lavington Church United 3-0, Oilibya FC drew 1-1 with Red Catalans, Ping United hammered Samba FC 4-1 while NIC Bank managed a barren draw with HHM.
In Division One, Consolidated Bank cruised to a resounding 5-1 win over Hurlingham FC, Black Diamond lost 1-2 to West Ham United, Strathmore FC edged out Madaraka United 1-0 and Amiran Lions lost by a solitary goal to GreenZone Property (MGT).
Toyota Kenya were winners in Division Two after edging out All Saints Cathedral 1-0, Saad Advocates lost 1-2 to Safaricom Limited, Dayliff managed a 0-0 draw with Best African Cosmetics as Thunder Foundation rallied to snatch a point after a 1-1 draw with Disciples FC. In Division Four, Nyayo Kingdom beat Diamond FC 3-1, Seacom managed a 1-1 draw with DGM Matrix, Methodist Church lost 1-2 to DGM Matrix, One African Logistic prevailed 3-2 against Harleys and Advert Eyez beat Total Kenya 2-1.
In the communities' leagues, Madd FC won 2-0 against SYK Rangers in Division One while in Division two Old Stars drew 1-1 with Chizzi Squad and Shine IT beat Samaj Thunderbolts 3-0.