Tottenham Hotspur
Mourinho masterclass puts Kane-less Tottenham in their place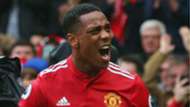 Jose Mourinho is keeping Manchester United in the Premier League title race, albeit by playing in a very different style to leaders Manchester City, who have made the greatest start ever to a campaign since the English top flight adopted its current format.
While the Etihad side are winning matches amid regular flurries of goals, the Red Devils are a side that thrive under the Portuguese manager's pragmatism. They recently stifled Liverpool and on Saturday defeated in-form Tottenham 1-0 at Old Trafford.
It took a goal from Anthony Martial less than 10 minutes from time to decide the match, though that is typical of a team that has excelled in the closing stages of games this term. 
Although Spurs, who were branded 'the Harry Kane team' by Pep Guardiola, were without their leading attraction, they were still thought to pose United a major challenge. Mourinho certainly respected them and made the match as tight as possible in order to quell their opponents' threat.
The London side might have edged the hosts in many of the key statistics – they had more possession, completed passes and shots on target – but they were not the team that have blown other sides away so often this term.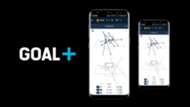 Much of this was due to the Portuguese manager's organisation, which helped United keep a fifth successive home clean sheet at the start of the season. 
Indeed, the visitors spent a good amount of time in the Manchester United half. A quarter of their possession came in that area, although United did have 29% in the equivalent statistic at the other end. 
Spurs offered a balanced approach to their attacking play, probing equally down either flank and only slightly less in the middle. They had little joy with any approach as they managed only four shots on target and nine in total – three of which were from hopelessly ambitious distance. 
By contrast, United had fewer efforts but were able to make one count in typically timely fashion. Interestingly, much of their attacking threat came from the left of the pitch, with Marcus Rashford able to drift into that area on a regular basis and it was from that area that Martial got the winner.
So, while this was hardly sparkling for the home team, it was efficient and good enough to keep them within realistic striking distance of their neighbours. Ultimately, that is all Mourinho will be concerned with.
All stats featured in the article came courtesy of the Goal+ app, exclusive to Samsung devices. Download the most cutting edge football app now!