PSL
Motale: Orlando Pirates do not lack quality players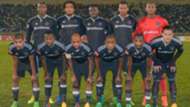 Legendary Orlando Pirates defender Edward Motale has shared a different opinion that the club shouldn't blame the quality in the current squad for their poor season. 
"I don't think that's the case. I think the players they have there are the best. I mean, 90 percent of them got the team to the (Caf) Champions League final with Roger de Sa and the Confederation Cup with Eric Tinkler," Motale told Goal.
Many former Bucs players have questioned the commitment and type of players the club signed at the start of last season.
With Kjell Jonevret taking them to the Nedbank Cup final in the hope to salvage a disappointing season, Motale says the 55-year-old is not to be blamed for the steady decline.
"I heard him say he wants to give everybody a chance because he got appointed within a short space of time and then after he has seen everybody, he will make a decision on who to keep and who to let go," Motale said.
"I won't put the blame on him because he's been there for a very short period of time and there was no time for him to hire and fire players. Let's give him the benefit of the doubt and allow him to start the new season, get his own players and only after that can we make a judgement," Motale added.