Johor Darul Ta'zim
Mora praises performance of both side but rues losing on small margins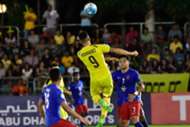 Johor Darul Ta'zim (JDT) put up a spirited fight in the second half but it wasn't enough as Ceres-Negros FC grabbed a late winner to earn themselves a spot in the AFC Cup ASEAN zone final. The 2-1 defeat in Bacolod City was marred by controversies toward the end of the match when seemingly look like they were on the way to the next round before a late refereeing decision changed the tie on its head.
Ceres had the better of the first half and controlled majority of the first period. Bienvenido Maradon was particularly impressive orchestrating from deep while the runs of Jeffrey Christiaens on the left hand side were causing JDT a lot of problems.
However, Marcos Antonio and Aidil Zafuan defended compactly but were let down in one moment of defensive carelessness that allowed Kota Kawase to slip in to score the first goal of the night. Benjamin Mora was also pleased with the way his team reacted off the ball as they hung onto the game until half time.
"We played very good game defensively. We are not a defensive team but we defended very well. Ceres is a very good team with good individuals. They fight and we fought today also. It was a good game for both," said Mora in the post-match press conference.
Despite improvements in the second half that eventually led to Gabriel Guerra scoring the equaliser, it proved to be inconsequential at the end. China's Fu Ming who was handed the task of officiating the match, deemed that Aidil had fouled Fernando Rodriguez in the 2nd minute of added time and the latter duly converted the resulting spot kick to send JDT out of the competition.
Mora refused to comment on the decision of the penalty, but admitted that it was a painful one to swallow having been just minutes away to qualify for the zonal final.
"It was a penalty because the referee said it was a penalty. I'm very sad because I want a victory of course. These kind of games when you lose in the minute 92 for any reason, it hurts a lot because you have the game almost there."
"We JDT invest a lot of money in this team. Our boss invest a lot of time and passion to fight in this competition. We came here with our face lifted, chest up and fighting like warriors. I know that if we play like this, all game will always be won," added Mora.
With the result, JDT are left in only two remaining competitions which are the Super League and Malaysia Cup. The latter, a competition that the Southern Tigers may take a little more seriously this season considering that they would not have continental fixtures to worry about now.