Martín Montoya
Montoya: Brighton & the Premier League can earn me a Spain call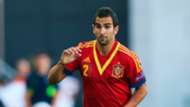 Martin Montoya believes that good performances for Brighton and in the Premier League can earn him the chance to make his Spain debut.
He is hoping to follow in the footsteps of Jonny Otto, who has already earned a national team call following his strong performances for Wolves, where he is on loan from Atletico Madrid, debuting against Wales in October. 
Like his compatriot, Montoya is new to the Premier League and he is fighting to establish himself in England after moving from Valencia to the south coast for £6 million ($8m) in the summer.
The 27-year-old was called up by Vicente del Bosque in 2011 but failed to earn any game time, and now he hopes his former Barcelona boss Luis Enrique will take notice.
"I have good relationship with him," Montoya said of Luis Enrique to Goal. "I played for him for two or three years at Barcelona B and then a year in the first team. It is true though, I didn't play so much in my last year at Barcelona, or at least as much as I would have liked. 
"I think it is possible to get called up from Brighton. I know how difficult it is, but I have a thorn in my side because I was called up and I didn't make my debut.
"I have played in all the youth age groups but at the end what everyone wants is to play for the national team. I was unlucky. I know it is very difficult, especially now when we have great players in my position, like Dani Carvajal, Alvaro Odriozola and Hector Bellerín.
"There is a big competition and they are players who are with big teams. Anyway, you have to focus on doing your job in your club and in the end if the manager calls you up, you are more than welcome. 
"Jonny, from Wolves, was selected in the last list. So the Premier League is a great platform and also the national coaches know me already. Of course I would like it."
Montoya operated as a backup option for the treble winning Barcelona side under Enrique in 2014-15.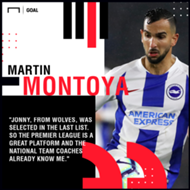 After loan spells with Internazionale and Real Betis, Montoya ended up at Valencia and he is now trying the Premier League for the first time. The Barca graduate dedicates his career to his mum, who he lost to cancer when he was just 17-years-old.
His new surroundings have inspired him to revisit an old goal celebration from his days as a kid at Gava, where she would drive him to train before he was signed up by Barcelona.
"I always dedicate the goals to my mother looking to heaven, but it is true I want to celebrate like a seagull," he said. "I want to do the gesture of the seagulls because when I was young, a long time ago, I used to celebrate the same way as Celta Vigo legend Catanha did.
"I was doing the seagull! I don't know, maybe I will do it again as it would link to Brighton.
"Anyway, when I score a goal, I always dedicated it to my family. It was very hard for me to lose my mother. It is very hard for anyone when you lost a mother or father. I fight to achieve every goal thanks to her and I do it for her."
Montoya is starting a young family of his own and he hopes his kids to grips with the English language better than he is as they move to their new surroundings.
¡PAPÁ NOEL CATANHA! 😁⚽️🎅

En un #CeltaVillarreal, @catanhaoficial dejó su regalo en Balaídos en forma de gol.

🔵 @RCCelta 🔵 pic.twitter.com/uf3Xop0aTT

— LaLiga (@LaLiga) December 17, 2017
Turning his attention back to team matters, he has set his ambitions high with Brighton, aiming for a European berth.
"We are in a good run, back to back victories against direct rivals. We should try to win these games," he continued. "It is very difficult to qualify for European competitions because there are lots of big teams in Premier League. They are very difficult to beat and overtake.
"However, a few years ago Leicester became champions, so anything can happen in football and we would love to be in European competition."
He would not be drawn, however, on Brighton's most impressive opponents to date.
"There are many teams which are of a high level. We have faced Manchester City, Manchester United, Liverpool and Tottenham," he said.
"They are fantastic teams and they know what they do. They are world-class teams, which are always great, not only in the Premier League, but also in European competitions. 
"I see City as very strong. City and Chelsea. If I have to choose someone, I would say City or Chelsea are the best."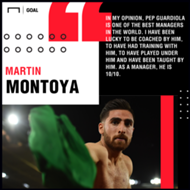 His tip of Manchester City to win the title is unsurprising, being one of the players to have played under their highly rated manager Pep Guardiola. He thinks that his former coach is a "10/10" at his job.
"In my opinion, he is one of the best managers in the world," he said. "I have been lucky to be coached by him, to have had training with him and to have played under him and have been taught by him. As a manager, he is 10/10.
"He speaks a lot and makes the players feel pampered. He explains to you what are you doing well and what are you doing not that well in order to improve everything. He wants all the team to know how to develop the play and gets every single player to know his role."
Montoya and Brighton have been preparing this week for their trip to Goodison Park to face Everton on Saturday.