Lionel Messi
Messi's 'FIFA Best' snub shows league success no longer counts for anything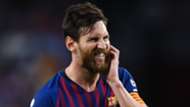 According to the majority of those who vote for The Best FIFA Men's Player Award, Lionel Messi does not rank among the game's top three players over the past 12 months.
Gary Lineker was among the many absolutely baffled by Messi's omission from the podium places, arguing that "no one that understands the game" could have excluded him from their top three.
The former England international reasoned, "Barcelona won the double largely thanks to Messi."
A very valid point but then, anyone who understands the awards game will realise that consistent brilliance over the course of a domestic season no longer counts for anything.
League campaigns, rather than cup competitions, were once considered the true test of both a team's and a player's quality but no longer.
How else can we explain Messi failing to make FIFA's top three or even the top four of UEFA's Player of the Year award? There was no better player from start to finish in the 2017-18 campaign.
Obviously, the reason why the No.10 wasn't regarded as a contender for top spot was because Barcelona capitulated in the quarter-finals of the Champions League at Roma before Argentina endured a calamitous World Cup campaign.
The Albiceleste's last-16 exit in Russia resulted in Messi's claim on the title of the greatest player in history being called into question once again, something that even the great Ronaldinho finds ludicrous.
"He's the best in history, no doubt," the Brazilian told Sport earlier this week. "Nobody has done what Messi's done."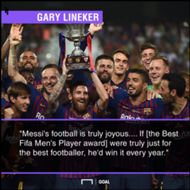 Yet there are those that believe he is not a true leader, primarily because he failed to carry an atrocious and rudderless Argentina side to World Cup glory, even though they wouldn't have even made it to Russia had it not been for his hat-trick in the decisive, must-win victory over Ecuador in Quito last November.
Furthermore, when it came to picking a new Barcelona captain following Andres Iniesta's departure for Japan during the summer, Ernesto Valverde only ever had one possible candidate in mind. After all, it was Messi who had, as Lineker quite rightly pointed out, carried the Catalans to a domestic double last season.
This wasn't just any Barca side either. It was arguably the weakest Barcelona squad since Ronaldinho had first rocked up at Camp Nou to kickstart an era of unprecedented success.   
Carles Puyol and Xavi had long since departed, Iniesta proved a fading force, Luis Suarez sparkled only intermittently and all of this after Neymar absconded for Paris Saint-Germain just before the 2017-18 campaign began.
The Brazilian's replacement, Ousmane Dembele, saw his debut season blighted by injuries, while the likes of Andre Gomes and Paco Alcacer failed to find anything like the requisite consistency required to excel at the highest level.
Unlike Messi. Thanks to his enduring genius, Barcelona not only won two trophies, they very nearly became the first Liga team to go through an entire campaign undefeated.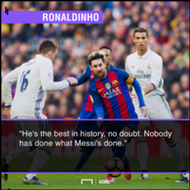 In the end, their unblemished record was ended in their penultimate fixture, away to Leganes. It was no coincidence that Messi had not featured, ridiculously kept in reserve for a midweek friendly fixture in South Africa.
As a result, the 31-year-old wasn't even able to rescue Barca from the bench, as he had done so memorably against Sevilla six weeks previously, coming on with his side 2-0 down before salvaging a draw with an 89th-minute equaliser. 
He was just as decisive in Barca's two meetings with great rivals Real Madrid, which was hardly surprising, of course. The Clasico's all-time top scorer netted in both Liga encounters, and even set up a goal in the 3-0 win at the Santiago Bernabeu while only wearing one boot.
His solo goal at Camp Nou, meanwhile, had come with Barca down to 10 men and struggling, even though he's not a leader...
Messi also netted against Sevilla in the Copa del Rey final. There was no denying that night belonged to Iniesta but the double, indeed the entire season, had belonged to Messi.
He had not just been the best player in the Primera Division either. There was no more effective player, statistically, across Europe's 'Big Five' leagues.
His 34 Liga goals earned him the European Golden Shoe but he scored 45 in total (including six in the Champions League) – more than Cristiano Ronaldo, Mohamed Salah (both 44) and, unsurprisingly, more than midfielder Luka Modric (2).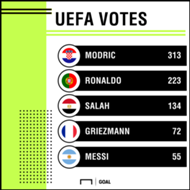 However, he wasn't just more prolific than his main rivals, he was more creative too.
Messi fashioned 121 chances in all competitions last season. Only Salah went close to making it into three figures (97), with Modric (60) and Ronaldo (54) lagging well behind. The No.10 also racked up 18 assists too, four more than Salah, and 10 more than both Modric and Ronaldo. 
Of course, it would be unfair to expect Modric to have anywhere near as many goals or assists as the other contenders, given he plays in midfield. 
However, it is worth pointing out that Messi also serves as Barcelona's deep-lying playmaker and, to further illustrate just how much more pivotal he is to the Blaugrana's build-up, Messi had more successful passes (1952) than Modric (1557) in the opposition half last season, and even had 1,010 more touches of the ball overall.
In addition, when it comes to influence over the way in which a team plays, Kevin De Bruyne (4797) can also feel hard done by, given no player in Europe had more touches of the ball last season, while only Dimitri Payet racked up more assists.
Yet De Bruyne, the key component in Manchester City's record-breaking Premier League campaign, failed to make the final three in either the UEFA or FIFA voting, while his boss at the Etihad, Pep Guardiola, hasn't even been shortlisted for FIFA's coach of the year prize.
No one is denying that the big occasion shouldn't be important when deciding who wins individual awards. Shining when it really matters in big Champions League and World Cup knockout games – as Modric did – is clearly more relevant than racking up goals against relegation cannon fodder.
However, at the same time, the pendulum has now swung far too much in favour of players who can be average or even poor for large periods of the season but merely turn up for a handful of big tournament matches.
It seems that just as defenders are never in the running for individual honours, league form now counts for nothing. Messi knows that better than anyone having been - in terms of consistency - the best player in the world last season.