Transfers
Mercado facing uncertain future as Sevilla contract runs down
Francisco Rico
Gabriel Mercado has admitted to Goal that he is facing an uncertain future at Sevilla as his contract continues to tick down.
The Argentina international, who has been with the Liga outfit since 2016, will see his current deal expire in the summer of 2019.
No extension talks have been held with the 31-year-old defender, leaving him to concede that a new challenge could lie in store as he heads towards free agency.
Mercado told Goal when quizzed about his future: "It doesn't just depend on me. I do my part, which is to come here and train every day and be ready to play and give my best. That will not change until my last day.
"The people who make the decisions will analyse if I fit or not.
"For the moment there has not been any type of contact [regarding fresh terms], but I know that there is still time and I will give my best until the last day.
"If my link with Sevilla ends, I cannot question anything and nobody can question my effort and my commitment to this club."
Mercado, if he is to leave at the end of the season, could walk away from Sevilla as a Liga title winner.
Pablo Machin's side top the table at present, one point clear of defending champions Barcelona after claiming eight victories from 13 games so far.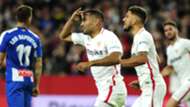 Pressed on the club's title credentials, Mercado said: "There is a long way to go, we have to maintain this good streak of victories.
"The last match [against Valladolid] wasn't our best game, but we won and that highlights how good and solid our team is because despite all of the problems we face, after many injuries to important players, our team always overcomes this and we are fighting.
"Football always changes but it is good that this year's La Liga is entertaining. There is equality and any team can beat another. 
"Normally at this time of a season the giants usually impose themselves with their squads and budget, which is to be expected when you play against Barcelona, Madrid or Atletico.
"But we're looking to take advantage of our opportunities, we're growing step by step at the top, but we can't get too caught up in that as our goal is to just keep working and improving."
Sevilla are also chasing down more continental honours in 2018-19, with a club that has landed the Europa League five times in the last 11 years back in the hunt for that particular crown.
"We have come down one step after two years in the Champions League, which was really special for me," said Mercado.
"We are one of the bigger candidates for the Europa League, and we know it. We have a responsibility to fight to win this competition."