Meet Les Herbiers: PSG's cup final opponents whose players earn the same per month as Neymar makes in 36 minutes
Last Updated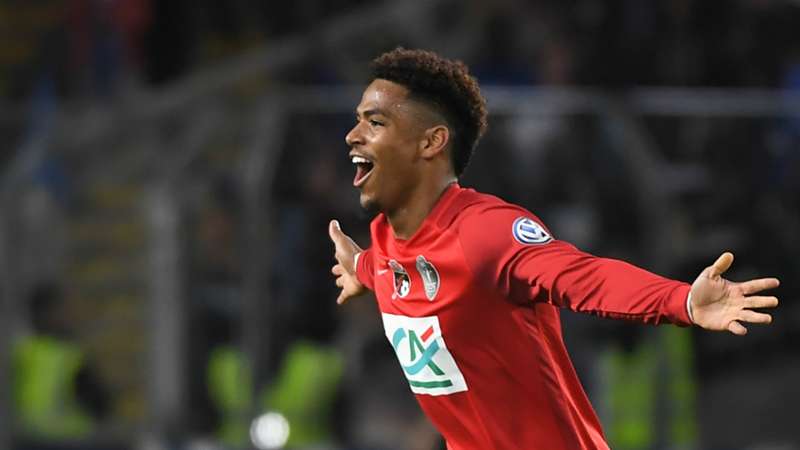 Getty Images
There are many replicas of Paris' Eiffel Tower around the world, but perhaps the most famous can be found on the Las Vegas strip.
Vegas is, of course, the gambling capital of the world, yet few in Cesar's Palace, the Luxor or the Bellagio have been brave enough to back little Les Herbiers progressing to Tuesday's Coupe de France final, in which they will tackle Paris Saint-Germain at Saint Denis.
No cup competition is quite like France's version of the FA Cup. Qualifying rounds for this year's tournament started in February 2017, with around 8000 teams from French Polynesia in the middle of the Pacific Ocean to sides from Guadeloupe in the Caribbean, Reunion in the Indian Ocean and French Guiana all involved.
It may be a national competition, but it is a tournament that truly spans the globe. The odds are infinitesimal, then, that a side from Les Herbiers, a town of little over 15,000 people in western France, should have progressed through to the final – especially as they are struggling to hold their own in the third tier of the game.
PSG, currently on a record winning run of 23 victories, stand in their way to immortality.
While there may only be around 400 kilometres geographically between the teams, they are worlds apart on a sporting basis. The average third-tier player takes home a wage in the region of €2,500 per month - a salary PSG star Neymar takes just under 36 minutes to earn.
Les Herbiers' entire budget for the year, €2 million, is dwarfed by that of PSG, who have €540m.
"The final must be over after 20 minutes," PSG right-back Thomas Meunier bullishly stated after the Ligue 1 champions shrugged off Caen to reach the Stade de France.
It is hard to argue with such a sentiment.
While the Parisians had the relative luxury of starting their competition in January, Les Herbiers were in action as early as October. After negotiating their fifth-round tie with JS Coulaines 4-1, they were nearly the victims of an upset themselves in the subsequent round, pushed to extra-time by Voltigeurs de Chateaubriant before winning through 5-1.
Since then, it has been the third-tier side creating a stir, although it might be a stretch to suggest they have done any giant killing.
"We've earned out place in the final and we owe it to no one," captain Sebastien Flochon argued after fellow National side Chambly were seen off in the semi-finals. "Of course, you need a bit of luck at each turn, but we had to win our games."
Indeed, the biggest scalps Stephane Masala's side have taken on the road to the final are Ligue 2 outfits Auxerre and Lens, neither of whom is enjoying a good season.
And yet, there has been no shortage of drama in Les Herbiers' remarkable progress.
"We didn't just get to the final by snapping our fingers," goalkeeper Matthieu Pichot pointed out.
He has emerged as one of the heroes of their unlikely run, stopping a penalty in the 3-0 victory over Auxerre then stopping two more spot kicks in a shootout against Lens in the quarters.
It was after that success at Nantes' Stade de la Beaujoire that the Vendee club's achievements started to be taken note of. They had trailed 2-1 in the shootout after star man Kevin Rocheteau saw his kick stopped, but the keeper produced heroics to turn the tie around.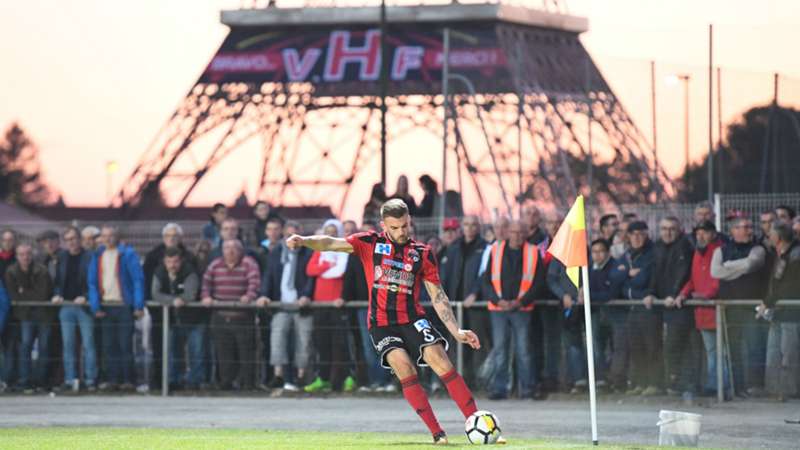 Before the shootout, the keeper, who is a keen piano player and reader of fiction, had sat on a drinks cooler and disappeared under a jacket along with goalkeeping coach Anthony Corre with an iPad. He has since revealed that he watched a video of shot stoppers making crucial penalty saves, including his hero Gianluigi Buffon.
"I'm a little unorthodox," he admitted to L'Equipe.
Former team-mates agree. Emmanuel Bourgaud, who now plays in Ligue 1 with another minnow, Amiens, described him as a "crazy fool".
The 28-year-old, unlike many of his colleagues, was once a full-time footballer but this side of his personality prevented him from making genuine inroads after graduating from the youth ranks of Laval, then of Ligue 2 but the side against which Les Herbiers won a vital relegation battle on Friday, coming back from 2-0 down at home to claim a 3-2 success.
Now three times a week, he can be found in a bar in town, not drinking his talent away but instead playing belote, a traditional French card game.
In the town, meanwhile, local residents have constructed their own version of the Eiffel Tower bedecked in the club's red and black as a tribute to the team ahead of their trip to the capital.
It might not be Las Vegas exactly, but should the minnows complete one of the most remarkable cup runs in modern football history, the little town will know a party that will put Sin City to shame.