Kylian Mbappé
'Mbappe will be the best player in the world' - PSG star is Messi & Ronaldo's heir, says Gudmundsson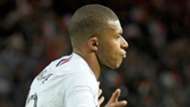 Kylian Mbappe is the heir to Cristiano Ronaldo and Lionel Messi as the best player in the world, according to Iceland international Johann Berg Gudmundsson.
Burnley midfielder Gudmundsson saw the devastating impact Mbappe can make at close quarters last week after France came from 2-0 down to draw 2-2 with Iceland.
Mbappe was brought on by France coach Didier Deschamps in the 60th minute and the World Cup winners rallied to earn the draw, with the 19-year-old the catalyst for the comeback.
He even stepped up to score a 90th minute penalty in Guingamp and Gudmundsson believes Mbappe is as good, and as fast, as anything he has seen on a football pitch.
"He is definitely special," Gudmundsson, who was earning his 70th cap for Iceland, told Goal from the national team's training camp. "He is the quickest player that I have ever seen play, and I have played against Ronaldo and Messi. His pace is something different to those two.
"Obviously, Ronaldo is quick, but it is the turn of pace that is something no other player has got, and to control the ball at that speed is something special. I think he will become the best player in the world in a couple of years, I have no doubt about that.
"It is unbelievable that he is just 19 and what he has done in the last year, to be honest. He has already done so many things. He is only going to get better, as long as his head is right and he stays humble, I think he will be the best player in the world."
Gudmundsson is playing in an Iceland team that have become heroes in their country after qualifying for both their first European Championship and World Cup in back-to-back tournaments.
With a population of just 334,252, Iceland is the smallest ever nation to qualify for the World Cup and Gudmundsson believes his side should still be regarded as underdogs, even as they increase their standing in world football.
"I never thought I could play in the World Cup with Iceland, definitely not," Gudmundsson added. "You always dream but it never crossed my mind that I would be able to do it. It is definitely something special and it is a memory that will be tough to beat in my career. 
"But I think we are still always the underdogs. It is always going to be something magical when we get to a big tournament, even though we have done it twice in a row now. We are still the small Iceland. We don't have the best players in the world but we are a great team here.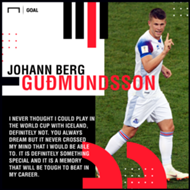 "We do put more expectations on ourselves now. We have done it twice and we want to do it again. It is definitely something you want to do again as a player. We always put pressure on ourselves but people outside expect more so we may have to adapt to that. You saw it a little bit when we lost the last two games.
"When we lost 6-0 [to Belgium], people thought the party was over and all that. I think when the qualifiers start for Euro 2020 that people will expect us to do well and go there. That's fine with us because we want the same thing. We want to go to big tournaments and give the nation that enjoyment again. To play in these big tournaments. We know the nation gets behind us.
"Just to play in the World Cup was the best experience. To be there, play with these great players. Obviously, we didn't win a game, which was extremely disappointing, apart from the draw against Argentina in the first game which was a massive thing for us.
"To play against Messi was something I hadn't done before, which was nice as well. Just to be on the pitch and be able to say forever that you are one of the people who has played at the World Cup is something I will never forget. To be part of Icelandic history is fantastic."
Five assists and a goal in his opening seven Premier League games for Burnley have led to Gudmundsson being the recipient of much praise in the UK.
But his close friend and Iceland team-mate Gylfi Sigurdsson has endured one of the toughest spells of his club career in recent years after joining Everton. However, Marco Silva's appointment as manager over the summer seems to have galvanised the attacking midfielder, who scored a stunning goal in the win over Leicester before the international break.
"It is just hard work [that has got him back to his best]," he said. "He is an extremely hard-working player with a lot of quality and I always knew he was going to bounce back from a few games that he didn't play well in. But he is a fantastic player, with fantastic quality who works extremely hard.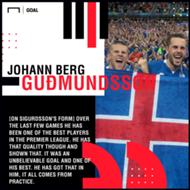 "I always knew he would be back to his best. Over the last few games, he has been one of the best players in the Premier League. He has that quality though and shown that. It was an unbelievable goal and one of his best. It was a joy to watch. He has got that in him, it all comes from practice.
"When he was younger, he was always out there every day after training practising that. There's no coincidence and there's always a reason. If you have done the things that Gylfi has done, then you can produce fantastic moments. We met each other at 12 or 13, we have been good friends since then.
"We live close to each other in Manchester. We have always been best mates and it is also just nice to play with good players. He is a good player and our chemistry on the pitch is good. It is good for Iceland. That's the special thing about this group. Five of these players are my best mates and to do it with your nation in Iceland together in big tournaments, it is all a dream come true."
Iceland face Switzerland in the Nations League on Monday night in Reykjavík with their group also containing Roberto Martinez's Belgium side.