Premier League
'Maybe it is time for change' - Gallas discusses Wenger's Arsenal position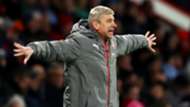 Former Arsenal defender William Gallas believes that the time could be right for the club to replace Arsene Wenger.
The French manager has not yet agreed a contract extension at the Emirates, leading to speculation that Wenger could be set to exit Arsenal after 21 years with the club.
Under-fire Ranieri given Leicester backing
At the weekend, Wenger revealed that he would decide his Arsenal future on a 'gut feeling', but Gallas feels that the club may make the decision for him.
"Maybe it is time to change something at the end of the season," the ex-Arsenal and Chelsea centre-back told talkSPORT.
"We can't forget what he did for the club. He did a very, very good job so sometimes you can't sack the manager like this. You have to respect the manager.
"That is why I said at the end of the season maybe the board has to speak with Arsene and try to find a solution."
Gallas thinks that the lack of trophies in recent years is the main reason that Wenger is being criticised.
Arsenal have not won the Premier League since 2004, and have just two FA Cup trophies since 2010.
"You get criticism when you don't win trophies, when you don't win games, and that is maybe the difference between Jose Mourinho and Arsene Wenger," Gallas continued.
"Mourinho wants to win every game and at the end of the season sometimes he has success but, for Arsene, Arsenal didn't win from 2004 so everybody starts to criticise him because football has changed.
Aguero is right to fear for his future
"Football is about victory, about trophies. Players want to lift trophies. If you don't lift a trophy in your career, you will feel disappointed at the end of your career.
"I don't know what Arsenal are going to do but they have to win trophies again."