Manchester United
Matic admits Man Utd must improve in 'big fight' for Premier League title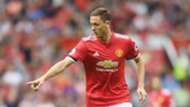 Nemanja Matic is happy with the progress being made by Manchester United, but admits they must "improve" to take the Premier League title.
The Serbia international knows what is required to secure domestic dominance in England having helped Chelsea to claim the crown on two previous occasions.
He left the Blues as defending champions over the summer, with a £40 million deal reuniting him with Jose Mourinho at Old Trafford.
Matic has helped United to make a positive start to the 2017-18 campaign, but they sit five points adrift of arch-rivals Manchester City at present and know there is still much work to be done if they are to emerge victorious in what promises to be a hard-fought battle for supremacy.
Matic told reporters after a narrow 1-0 victory over Tottenham that helped keep Mourinho's men hot on the heels of City: "It's hard to say after 10 games that someone is going to be champion. In two games everything can change.
"I think there is five teams who will challenge for the title and if I say something now I will be wrong for sure.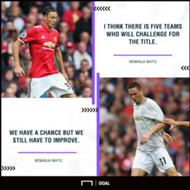 "You have Manchester City, us, Chelsea, Arsenal, Liverpool, Tottenham so with five or six teams it is going to be a big fight until the end and we will see in May.
"This is only 10 games but I'm happy that we are now second position, that we are there. We have a chance but we still have to improve."
United have some big tests approaching in the coming weeks, having just come off the back of a run which included a trip to Liverpool, a defeat to Huddersfield and a home date with Spurs.
While there are plenty of winnable games – at least on paper – to come for the Red Devils, their next Premier League fixture takes them to Stamford Bridge to take on Chelsea – following a midweek clash with Benfica in the Champions League.
They also have an away date at Arsenal and a derby with City at Old Trafford to come before mid-December, with any challenge for the title likely to be shaped heading into the hectic festive period.