A-League
Markus Babbel the key as Wanderers recruit German defender Patrick Ziegler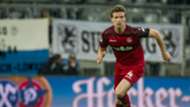 After a career spent entirely in Germany, including a stint in the Bundesliga, Patrick Ziegler was convinced to move to Australia by new Western Sydney Wanderers coach Markus Babbel.
Ziegler is Babbel's first official signing and the 28-year-old defender revealed the German coach was key to his decision to join the club.
"The main reason why I decided to join the club was Markus Babbel," Ziegler said.
"We had several nice phone conversations where he told me a lot about the club, my new teammates but also about the country, the culture and the lifestyle. 
"I like the playing style he wants to play with the team."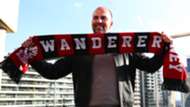 Having spent one season in the German top flight with Paderborn, Ziegler was most recently with FC Kaiserslauter, who were relegated to the third-division at the end of last season.
Ziegler made just 10 starts over the past year for Kaiserlauter and is set to fill a key defensive void for the Wanderers.
After spending his entire career in his native country, the German is eager to test himself abroad. 
"I'm very excited to be part of this great club and start a new chapter of my career in Australia," he said. 
The A-League is now set to host two former Bundesliga defenders with Melbourne Victory also signing Georg Niedermeier last week.