PSL
Manyama urges Cape Town City not to undermine Orlando Pirates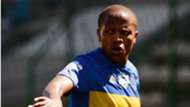 Cape Town City captain Lebogang Manyama  says they have to be cautious against Orlando Pirates because the last time they faced a team on the back of successive defeats was Platinum Stars and they got a 4-0 hammering at home.
"We know what Pirates is going through as a team, but at the end of the day we know that they are Orlando Pirates and sometimes what's happening to them right now is going to change," Manyama told Goal .
"You have to know that. So we are going to give them the respect they deserve and obviously we have a plan for them. We just need to make sure that we execute it."
"But we also have to be cautious on how we will approach them because you can never underestimate them," Manyama said.
A defeat will see them lose their grip on the top spot as Kaizer Chiefs can go top if they beat Highlands Park in Durban earlier in the day.
"We are not focused on that, but ourselves. I think we are also running our own race and we are taking it one game at a time," Manyama added.
"So it's going to be tough against Pirates and we are not worried about other results because everybody is in control of their own situation," Manyama stressed.
Since it's their home game, it's imperative that they grab all points to maintain their good run at home where they have lost only twice in all competitions all season long.
"We are playing another home game which when we started the season made it clear that we cannot drop points at home," Manyama concluded.