Manchester United
Manchester United on the worst unbeaten run in Premier League history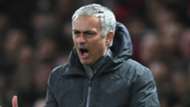 Manchester United may be in the midst of a lengthy unbeaten run in the Premier League – but that's not to say their form is impressive.
Zlatan: I could be the next Bond!
Indeed, the 20-game sequence that Jose Mourinho has led his team on without defeat has produced only 40 points and has seen the Red Devils remain outside the top four. Should Arsenal win the game in hand they have over their Old Trafford rivals, they will knock United down to sixth – only one place better off than they were when this sequence started in October after a 4-0 loss to Chelsea.
Exactly half of the games that Mourinho's men have played since then have ended drawn, with Tuesday's tie with Everton typifying that as Zlatan Ibrahimovic scored a late penalty to salvage a point at home.
50% - Of the longest unbeaten runs in PL history (20+ games), Manchester United's current run has the lowest win % (W10 D10). Uninspiring.

— OptaJoe (@OptaJoe) April 5, 2017
Of all the teams that have made an undefeated run of 20 or more matches in the Premier League era, this United team have scored the lowest percentage of victories.
It is a statistic that will add fuel to the fire of those who believe that Mourinho's side are uninspiring and little better than those of David Moyes or Louis van Gaal.
The Red Devils have drawn six of their last nine Premier League outings, sharing the points with teams such as Stoke, Hull, Bournemouth and West Brom.