Paul Scholes
Manchester United legend set for date in Genting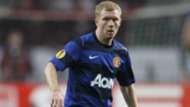 Scholes will be joined by fellow former England internationals Robbie Fowler and Michael Owen in Genting Highlands when the World Cup comes around middle of this year.
Resorts World Genting launched their Genting Football Fever 2018 on Thursday in conjunction with the upcoming FIFA 2018 World Cup.
The event will also be giving out 10 travel package to Russia for their Genting Rewards Cards members that will include an all expense paid trip to Russia with tickets to the opening ceremony.
"In the World Cup, it'd about excitement and who is going to win. So when we organise this Genting Football Fever, we also want our customers to feel the excitement and for them to win something."
"As such in conjunction with the World Cup,  we would like to fulfil the dreams for ten lucky winners, who will have a chance to travel to Moscow for the opening ceremony and experience the thrillling energy of 32 of the world's best national teams competing for football glory," said Kevin Tann the VP of Promotions and Entertainment for Resorts World Genting.
The Arena Courtyard will be hosting an Interactive Football Village from May 17 to July 15, 2018. Owen is expected to arrive for  the opening match from June 14-16 while Scholes and Fowler will be at Genting for the final on July 13-15.
For more information, visit www.rwgenting.com