Manchester City v Arsenal
Manchester City's creative hub David Silva is in the form of his life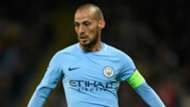 It's been Sergio Aguero's week.
He finally claimed his place as Manchester City's all-time top goal scorer - and what a way to do it. Away against Napoli in one of City's most difficult fixtures of the season, Aguero slotted home past Pepe Reina to move his side into a decisive lead.
4/1 for Man City & Arsenal to draw
His boot supplier will commemorate Aguero reaching the 178-goal mark with a special pair of boots, which he will use against Arsenal on Sunday . There will be a presentation on the field at the Etihad beforehand. And then Aguero might well be taking his place behind Pep Guardiola on the bench.
For all the plaudits that have come his way over the years, there is still a sense that the manager is not wholly satisfied with what Aguero is giving him. There have been high-profile spells on the bench, the injuries sustained in the unfortunate Amsterdam traffic accident deprived Guardiola of his striker's services for a few crucial matches.
Aguero admitted this week that he is not entirely sure when his contract expires with City and you get the impression that Guardiola is in no rush to renew it.
The Argentine will be thanked for his services and for his goals when the time comes to say goodbye and Guardiola will set about finalising his plans for a frontline without him.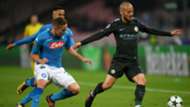 The Catalan has redesigned almost all of the key positions in the City squad now and along the way erased the influence of most of the club's first-wave of superstar signings and dominant figures from their two titles wins.
Joe Hart is gone and Ederson gives Pep exactly what he wants in goal. It's so long to Pablo Zabaleta in the backline with Kyle Walker proving to be one of the best signings of the season at right-back.
John Stones represents a new kind of centre-back – in that he's not quite a centre-back but instead a midfielder who has to put in one or two more blocks or headers than the rest of his colleagues in the team. And with that, City have got used to life without Vincent Kompany.
There is no space for Yaya Toure and in any case he would not be able to play Pep's one-man midfield role like Fernandinho can. Aguero knows he's on borrowed time, with Gabriel Jesus still undefeated in City colours and breathing down his neck.
So that pretty much leaves David Silva as the only integral City figure to make the successful transition to Guardiola mainstay. It could well have been that Silva's age and ankle trouble could have counted against him in Guardiola's mind.
Nothing vexes him more than losing players to injury - as his high-profile falling out with Hans-Wilhelm Muller-Wohlfahrt at Bayern Munich proved – and he has been shown to prefer working with younger players who are less set in their ways than the older ones. But Silva defies those conventions and Guardiola must look at the 31-year-old as a gift from the Gods.
"David is one of the best players I ever trained in my life," said the City manager last season. "I am a lucky guy to be with him."
There is plenty of talk this week about the possibility of extending Silva's contract, which is due to expire in 2019. And with good reason.
The 116-cap Spain international is demonstrating this season that he remains the best player in his position in the Premier League and deserves to be considered one of the league's all-time best overseas players.
"He's very gifted and I'm shocked he's not talked about with the greats, especially some of the foreign players who have come into the Premier League," says ex-team-mate Shay Given. "He's definitely up there."
Raheem Sterling's phenomenal improvement and goal-scoring tally, Leroy Sane's consistency and Kevin De Bruyne's mastery in possession mean that Silva is usually a long way down the running for City's highlight reels.
It is hard to get attention in this team at the best of times. But Guardiola has facilitated the best football in Silva's entire City career. Alongside De Bruyne in the City playmaking department, Silva has been feeding through balls to his forwards and retaining possession in key areas all season long to devastating effect.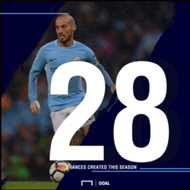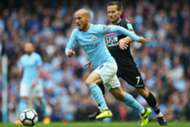 "The good thing about David is that he makes everything look so easy," said Given. "He never panics; he always seems to have space and time on the ball. That's a knack in itself: finding pockets in the pitch where to go.
"[Do] the midfielders pick him up, [do] the defenders pick him up? It's stuff that sometimes you can't teach or coach a kid."
Next time you see a City wide man pull a low cross back into the box for a forward to apply the finish, rewind the footage and see at what stage Silva was last involved. It will probably have been the pass before the pass.
He has nonetheless created 28 chances for City in the league – only De Bruyne has more on 30. He has given six assists; a team-high figure alongside the Belgian. He has been ever-present on the domestic front as City have racked up nine wins from 10 games.
The general consensus is that City have never played better and it is surely no coincidence that Silva has never played better either. He is thriving in Guardiola's ultra-attacking formation.
The former Barcelona boss has solved last season's missed chance problem by overloading his attack in the expectation that one of Sane, Sterling and Jesus or Aguero will be released by the relentless supply generated by Silva and De Bruyne.
While it is the former Chelsea man who is in the headlines – and rightly so given he's in the form of his life – it is his creative cohort who is proving to be the last remaining indispensable from City's first wave.