Mamelodi Sundowns
Mamelodi Sundowns need to reflect on why they are losing, says Pitso Mosimane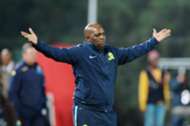 Mamelodi Sundowns crashed out of the Telkom Knockout Cup after suffering defeat against Chippa United at the Sisa Dukashe Stadium on Sunday afternoon.
The defeat not only signalled the end of another prospective trophy run but was also Masandawana's third defeat on the trot which only saw further pressure mount on coach Pitso Mosimane and his troops' shoulders.
Nonetheless, speaking after the game, the Brazilians' tactician once again lamented Sundowns' lack of killer instinct in front of goal.
"We didn't look like scoring to be honest," Mosimane told SuperSportTV.
"We only had half chances in front of goal. You can't say we didn't play, you can't say Chippa didn't allow us to play, we controlled the game.
"But controlling the game doesn't mean winning the game. Chippa scored from the break. If someone is playing from the break I don't think they are pressing us," Mosimane explained.
Furthermore, Mosimane admitted that while Sundowns are currently experiencing a difficult spell where results are not forthcoming, he is not pushing the panic button just yet, rather he says that they just need to reflect on why they are losing and weather the storm.
"We keep going, we keep trying, we don't give up," Mosimane added.
"We mustn't forget where we were before. It's our time, we have to pay the price and we have to move on, keep trying, dig deeper. That's my job. I told the boys to try harder and if we don't win, we have to try more. We must create more chances, try to score more, dig deeper.
"We need to reflect on why we are losing. We can't push panic buttons and say we don't have a team or the team doesn't play well. I like my team so much, I have been with this team for the last five years, I know where this team comes from. We are going through a difficult phase, when you go through this phase I must raise my hat as a coach and lead this team.
"I'm not going to hide, I must lead this team in difficult times. I am emphasising that we are playing well. As much as you win games, you also need to lose games. This is part of development, it is part of seeing what we have as a team and what we do in these situations," Mosimane emphasised.
"As coaches, you are being punished and criticised, it's a package. Sometimes you are praised, sometimes you are criticised. This should not affect your mentality or your belief in your team, or yourself. You should not start doubting yourself.
"We are still good. We have to keep going. Our life doesn't end today and our careers in football don't end here," he concluded.