PSL
Malesela rules himself out of Orlando Pirates job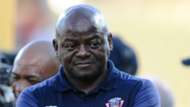 Chippa United head coach Dan Malesela has refuted reports stating that he will be named as the new Orlando Pirates permanent coach.

On Monday, Pirates chairman Irvin Khoza revealed that the club will announce the new head coach next week and speculation over the new Bucs trainer has continued.

Malesela is one of the coaches, who have been linked with the job, but he has since ruled himself out of contention for the vacant position.

"You don't understand how much pressure I have been under because people have been making like it's a fait accompli that I will be going to Pirates'" Malesela said on The Sowetan.

"It has been made like it is done and dusted and we are just waiting for somebody to accept the money and I'm going and all these things," he added.

Malesela, who played for Pirates, Manning Rangers and Mamelodi Sundowns during his playing career, insisted that he's focused on building a formidable Chippa team.

"It would be premature for me to go now and leave for any other club and I'm leaving these boys here while I'm trying to build something. The day that I'm forced to leave Chippa will be very sad," he stressed.

Last season, the Chilli Boys finished in the top eight in the league for the first time in the club's history under Malesela's guidance.

"It is a compliment to me for what has been achieved over the year. It is good to be wanted … and not to be fired," he concluded.