AFF Championship
First leg win is a minimum requirement for Shahrel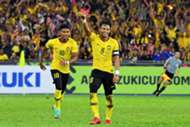 Having spent six months on loan at Nakhon Ratchasima FC in the Thai League 1 this year, Shahrel suddenly become the main attention in the Malaysia national team after it became known that Thailand will be Harimau Malaya's opponent in the semi-final of the 2018 AFF Suzuki Cup.
The 24-year-old Shahrel came to prominence last season after becoming PKNP FC's top scorer in the 2017 season and has since progressed through to the senior national team when Eduardo Vingada gave him his first cap last year.
In this tournament thus far, Shahrel has played a part in every single one of the four matches that Malaysia have involved in but only against Vietnam did he play right from the start. Without a goal to his name yet, Shahrel do however has an assist gained in the 3-1 win over Laos.
"In this Thai national team, only one player is my team mate. He's my captain over there and coincidentally, also the captain for this Thailand team. What I learn over there, there's no big advantage to be gained. They have a solid team and like us, are combining senior players with new players."
"That said, a lot of them are new players because the ones that are familiar to us and are their top players, are not in this team. Perhaps from that sense, we have a slight advantage because their players are new to the national team," Shahrel told Goal.
Chalermpong Kerdkaew is the player mentioned by Shahrel and the 32-year-old centre back is the oldest player in the Thai team. The centre back will no doubt share a warm embrace with Shahrel before and after the match, and will know the Malaysian forward's movement inside out.
The last time Malaysia met Thailand at the semi-final stage was back in 2012 when the former only got a 1-1 draw in the first leg that was played in Kuala Lumpur. This time around, Shahrel truly believe that Malaysia have to go one step further and take a lead to the return leg.
"They are the favourites and we are the underdogs. That is something I prefer actually because the pressure will be on them. For us, of course there are plenty of things that we still need to work on to get a result."
"We must target for win in the first leg because when we go away, that is going to be tough. At home Thailand have won all their games, so there's no choice for us but to take a lead going into the return fixture," he added.
Malaysia will play Thailand at the Bukit Jalil National Stadium on Saturday in front of a packed stadium after Football Association of Malaysia revealed that all tickets for the match have been completely sold, after only three days of sale.
Follow Goal Malaysia on Instagram