Lionel Messi
Magical Messi no guarantee of success for Barcelona - Saviola
Ignasi Oliva Gispert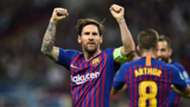 Lionel Messi is "extraordinary", Javier Saviola has told Goal, but he only offers Barcelona "an advantage" and is no guarantee of La Liga and Champions League success.
The presence of a mercurial Argentine forward has helped the Blaugrana to collect an enviable haul of domestic and European honours down the years.
Messi's stunning strike rate has continued to keep them in contention for the grandest of prizes, with his ability to conjure up moments of magic ensuring that the Camp Nou outfit can never be written off.
Saviola considers his fellow countryman to be one of the finest players to have ever played the game, with the former Barca star telling Goal: "Sometimes you ask yourself the question, how does he do it? He does things that seem impossible.
"He is one of the best players in history and an extraordinary player in our lifetime, which is highlighted by the number of goals he has scored and the number of trophies he has won.
"Messi continues to excite me, I love seeing him play and his approach to football. I could talk about him for hours and I have huge admiration for him."
While quick to talk up Messi's obvious talent, Saviola admits that he cannot carry Barcelona by himself and does not make Ernesto Valverde's side the favourites for continental glory in 2018-19.
He added: "I don't think so. In the Champions League and World Cup, with so many competitive teams and top players, it is difficult to say that any team can reach the final and be champions.
"To have Leo is an advantage but it is not definitive. There are other teams that can fight for honours. I think Barcelona will be strong contenders, but they must show that throughout the competition."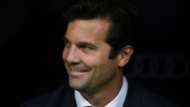 Barca have had to watch on over recent years as arch-rivals Real Madrid have dominated the European scene, collecting three successive Champions League crowns and four in the space of five years.
The Blancos are, however, taking in a period of much change, with Santiago Solari the latest to have been handed their managerial reins as they endeavour to counter the departures of Cristiano Ronaldo and Zinedine Zidane.
Saviola believes another countryman and former team-mate is the right man for Real, saying of his ex-employers at the Santiago Bernabeu: "I know Santiago Solari well because I played with him for a long time, we were partners for many years, and I wish him well.
"I know him as a coach but since he's just starting out and he's at Real Madrid, we all know how difficult it is to manage at that club. I hope he can achieve what he wants to as a coach."