Ligi kuu Bara
Lwandamina won't blame Obrey Chirwa for penalty miss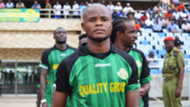 Young Africans Head Coach, George Lwandmina has defended Obrey Chirwa for missing a penatly in their CAF Champions League clash against St Louis noting that that every player can miss a penalty kick.
The Zambian attacking midfielder slipped and missed the crucial 24th minute spot-kick in the match.
"Every player can miss a penalty. He is not the first player to miss a penalty.You can talk to him and he is so disappointed. But it is difficult to blame Chirwa for that" said Lwandamina.
"He is the best player and has all qualities but missing a penalty is a part of football," Lwandamina told reporters.
The Zambian striker has converted only 2 penalties out of 5 he took from the spot this season, missing 3.
Obrey Chirwa is the leading scorer for the Jangwani outfit as he has already netted 10 this season so far in League..