European Championship
Scolari hails Figo's influence on making Ronaldo a star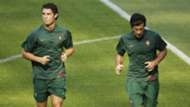 Former Portugal coach Luiz Felipe Scolari believes Luis Figo was instrumental in the development of Cristiano Ronaldo.
Scolari coached Portugal from 2002 to 2008, handing Ronaldo his debut and leading the host nation to the final of Euro 2004.
Figo, a Ballon d'Or winner in 2000, was a senior member of the national team as Ronaldo burst onto the scene.
And Brazilian coach Scolari believes the retired winger, who starred for Sporting Lisbon, Barcelona, Real Madrid and Inter, helped set Ronaldo on the path to greatness.  
"Of all the players I coached while at Portugal, there was one that was especially important for Cristiano Ronaldo, that was Luis Figo," he told Omnisport.
"When Ronaldo started with the national team, the first one to help him was Figo. He was the first player to challenge Ronaldo to dribble and shoot, to score goals, to play his own game, to keep working all the time and become a better footballer. 
"Figo took a position, saying 'My son, try again, keep trying. If you see the situation is difficult, I will give you a hand, and if you make a mistake I have everything ready, so calm down, but you have to try'."
Figo ended a glittering career having won four La Liga titles and four Scudetti, as well as one Champions League crown and numerous domestic cups.
While he trails behind the older man with only four league championship wins, Ronaldo has arguably already surpassed the individual achievements of his on-field mentor, lifting the Champions League three times and winning the Ballon d'Or on three occasions.
Barcelona's Lionel Messi has often overshadowed Ronaldo, but Scolari believes the determination of the 31-year-old Real Madrid star will equip him to continue impressing in the years to come.
 
"Cristiano has won the Ballon d'Or several times because he is a professional," he said.
"He won't accept not being thought of as the best player in the world. 
"He is looking for perfection; he wants to be perfect in every aspect of his game. Sometimes people told him to take things a little easier, but that's the way he is. I had the pleasure to work with him while was growing up, and he will keep working until he's 35."