Premier League
Liverpool slump: Stop comparing Jurgen Klopp with Brendan Rodgers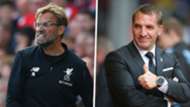 Liverpool have got problems that Jurgen Klopp cannot rectify easily in the short term. They are ninth in the Premier League - having conceded more goals to this point than in any other season for more than 50 years - and are rapidly losing touch with Manchester City at the top of the league.
League draws against lesser teams like Watford, Burnley and Newcastle have seen the Merseysiders fall out of contention for the Champions League places - for now - while form in Europe has not been much better. 
Liverpool 11/8 for a top four finish
Things reached a nadir on Sunday at Wembley. While the 5-0 hammering earlier in the season against Manchester City can be covered over with the excuse of Sadio Mane's red card, there can be no such qualification of the defeat to Tottenham. 
Alarmingly, every one of the four goals conceded against Spurs derived from an individual error.
"In all the decisive moments we were not there," Klopp said. "It's difficult to talk about because I don't want to create headlines, which don't help us, but today it was just poor defending in all parts."
That does not necessarily suggest that the manager is getting things wrong from the dugout, it emphasises that increasingly he cannot rely on some of these players to carry out his instructions. But his only option is to ignore the noise and muddle through to January at least when the transfer window reopens.
Simon Mignolet and Dejan Lovren – in particular – have been complicit in Liverpool's downturn. Their mistakes last weekend need no further analysis but Klopp is paying the price for persisting with the pair and hoping their form turns around.
To correct Liverpool's defence at this stage would require a time machine and better diplomacy in dealing with Southampton over a deal for Virgil van Dijk so for now Klopp has to go with what he's got.
His options are threadbare even if he drops the underperforming and chronically injured Croat. He could shuffle Joe Gomez into the centre or else use Ragnar Klavan there. Neither is a sure way to stem the flow of goals against. Besides, Gomez has been required at right back where Nathaniel Clyne has been absent.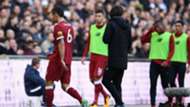 And that brings us to the next issue that Klopp has to face: injuries. City are about the only top team who could cope with a run of injuries like Liverpool have endured.
United are a mess without Paul Pogba while Chelsea are not the same team without N'Golo Kante. It is unfair that any discussion of Liverpool usually fails to take into account the fact that Adam Lallana – their creative hub is yet to lace boots this season.
They're currently contending with the absence of Sadio Mane too – hamstrung on international duty with Senegal – and also missing from the line-up for the games against Burnley and Leicester in the league due to the suspension he picked up at City. Nathaniel Clyne, Lallana and Mane are three of Liverpool's most important players and due to the inability or unwillingness of owners FSG to spend anything close to the sums doled out by the teams further up the food chain, Klopp simply does not have the squad to cope.
Most of their "first" XI - perhaps an outmoded concept in the age of rotation – are good enough to match the richer teams but those other sides have stronger benches. That's where Liverpool suffer.
Combine the misplaced faith in players like Mignolet and Lovren with a wider squad without depth and you'll see that Klopp has nowhere to turn. But don't expect him to become any more pragmatic in search of results.
"The talk of Plan B shows a lack of understanding," Klopp told Goal 's Liverpool correspondent Melissa Reddy in pre-season.
"In the moment when you are not feeling confident, you cannot change too many things - that's insecurity."
Klopp sees Liverpool on a developmental arc where bad results are bumps along the way. Nothing will come between Klopp and his vision.
But he now must surely recognise that some of the players he's got are simply unable to deal with what he's asking for.
There is no Plan B because Plan B doesn't exist. Plan A should be enough if only individuals would stop making mistakes.
Klopp suggested first after the Leicester City Carabao Cup defeat and again after Spurs that these kinds of errors would no longer be tolerated.
He will not simply put more bodies in front of Lovren or Mignolet in the hope that they can mask their deficiencies.
Going forward there are problems in the finishing department but those are not half as pronounced right now as the slips at the back. Fourteen goals in nine games might not be a great start but who else has had to play City and Spurs away plus Arsenal and United at home by this stage of the season? Seven of their nine games have been against teams ahead of them in the table.
Yes, they should have scored more against Burnley. Maybe, they could have found a way through against United. But all in all they are not doing too badly. Their Expected Goals (xG) numbers measured by Opta roughly correspond to what they've managed to score. However, it's disheartening not only for fans but for the team's own forwards that they have to move mountains to score while opposition teams are routinely gifted goals at the other end.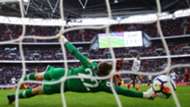 The comparisons to Brendan Rodgers' record meanwhile are unhelpful and insidious. One tweet on social media is regularly recycled showing how Klopp's win percentage at Liverpool is lower than Rodgers' whilst at Anfield (as well as David Moyes' at Manchester United).
Rodgers is being cast as some sort of failure in this analysis and Klopp is mocked because he can't even keep up with him. Rodgers though oversaw Liverpool's best-ever Premier League points total and took them closer to the title than any manager since they won the league for the last time in 1990. Plus, he had the greatest forward to pull on a Liverpool shirt in Luis Suarez. Klopp doesn't.
Rodgers' reign ultimately petered out – with a string of poor results at the end of the 2014-15 season and an indifferent start to the next one. Klopp then had to rebalance a jaded squad which wasn't of his own making. Two cup finals in his first season provided a decent initial return.
Unlike Rodgers though, Klopp is not likely to alter his formation in the hope of arresting a slide and that is what turned the owners off the Irishman. He doubted himself.
There are parallels between Liverpool's current run and the sequence which led to Rodgers' sacking. They won three of their first eight Premier League games that season and for Klopp it's three in nine.
They struggled in Europe with draws against Bordeaux and Sion and this year there were draws against Sevilla and Spartak Moscow before the breakout win against Maribor.
They needed penalties to get by Carlisle in the League Cup and this season they were put out at the first attempt.
If anything, their recent run of one win in nine matches will make Klopp all the more determined for Plan A to work.
But the feeling in the club is that Rodgers was going nowhere but Klopp is going somewhere. Fewer errors and strong conviction should see Liverpool back among the Champions League places, starting with Huddersfield this weekend.