UEFA Champions League
Liverpool needed Barcelona trip after Bournemouth shock - Klopp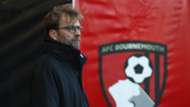 Jurgen Klopp has revealed his Liverpool players needed a midweek "training break" to Barcelona to recover from their desperate  4-3 loss at Bournemouth.
In-form Liverpool had led 3-1 at Vitality Stadium with 15 minutes remaining, but Bournemouth struck three times late on to turn the game on its head and claim the three points.
Klopp is right to stick with Karius
However, writing in the club's programme ahead of a home match against West Ham, Klopp is adamant his side are not "finished" after that shock reverse – and reflected on a trip to Spain, where Liverpool took in Barcelona's defeat of Borussia Monchengladbach.
"What can I say about the Bournemouth result other than: for us it will serve as a lesson and we will take the information from it and develop as a team," he wrote.
"There were so many positives from the performance and I cannot fault the players' attitude or character. They gave us everything on the pitch, but in the end we didn't get the job done and, of course, that is frustrating.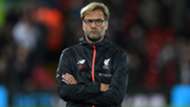 "But when you can learn from experiences such as this, long-term we can take the benefits from them. We are still a team in development. We are still learning together.
"We are by no means 'finished'. It would not be smart or clever if we were by this stage. Of course we did not want this lesson or experience, but we had it and now we must use it.
Klopp clueless on Sturridge return
"After the game, the team and staff flew to Barcelona for a training break. I'm not sure what you would call this; I have seen 'team bonding' and other phrases used, like 'warm weather training'. I suppose these descriptions are fair.
"What we did was take the players away so they could have some time in a different environment. They enjoyed an evening together, but the rest of the time was training and being a team away from Melwood.
"Of course, Melwood is our headquarters of football, but a change of environment and scenery is also a good thing."