Liverpool
Liverpool fans looking forward to meet Jurgen Klopp in Cape Town
South Africa Chief Editor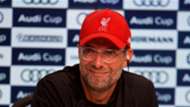 Bafana Bafana take on Senegal in their crucial Fifa World Cup qualifier at the Peter Mokaba Stadium in Polokwane on Friday, September 10.
So that's actually quite far from where Jurgen Klopp will attend to football fans in Cape Town, South Africa two days earlier.
Klopp will be hosted by Hout Bay United for a charity event, to raise money to develop the game in the area.
This is how the local youth club advertised their special program with the Liverpool manager.
"We're excited to announce A Once-Off Opportunity to Meet Liverpool Football Legend, Jurgen Klopp- In Aid of Hout Bay Football Community, HBUFC," read their statement on Facebook. 
"An Evening with Jürgen Klopp" to raise funds for the Hout Bay United Football Community (HBUFC) Trust at Bay Harbour Market, Hout Bay
The chance of a lifetime awaits local football fans who want to give back to the community."
A Statement from Hout Bay United about their club:
"In the town of Hout Bay in the Western Cape, a new team has been born - Hout Bay United Football Community. You read it right. We are more than just another club, we are the first charitable Football Community in the World.
"And we are here for all people, of all ability, no matter where they live or where they're from.
"It's our aim to unite the people of Hout Bay through the 'Beautiful Game'.
"To achieve our goals, we'll help develop football through every level.
"At the foundation, we plan a broad range of social programs to support our community using football as the catalyst.
"Mentorship and education provide the backbone running throughout the organisation at every level.
"The mid -level supports existing Organisations, leagues and affiliations that currently boast over 30 well-established teams. We can assist with planning, management, organisation, sponsorship and coaching for players and more importantly, coaches.
"Our hope is to foster and mentor talent from each corner of Hout Bay.
"For the most promising, we provide an outlet at the Elite level. We have a franchise team that's currently top of the ABC Motsepe league - just two promotions from the Premier Soccer League (PSL).
"Our U/18's won the treble, including the prestigious SAFA Cape Town Coke Cup and a professional coaching staff, which includes former Bafana Bafana star Bradley August and Ajax CT and Kaiser Chiefs defender, Dominic Isaacs.
"This adds focus to all the projects and gives every player something to aspire to."