Simba
Ligi Kuu Wrap: Bocco is Simba's first choice Striker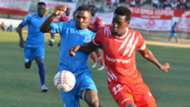 ---
Bocco is Simba's first choice Striker
---
Simba Head Coach, Cameroonian Joseph Omog has revealed that his first choice striker is John Bocco. Omog has been impressed with the strikers output in the league and now looks set to be in the starting lineup for the weekend's match versus Lipuli FC.
Omog has seen most of his strikers fail to hit the ground running this season and will be hopping Bocco has finally hit form and can continue to score at will
---
Matheo Anthony to join Lipuli on loan
---
Yanga's striker Matheo Anthony looks set to join Lipuli FC for the remainder of the season.
The club has confirmed there has been interest on the player from Lipuli but are waiting for the coach to decide before they can let him join the Iringa based club.
The striker is yet to start a match for the reigning champions this season.