Liga MX
Liga MX Talking Points: Tigres defending turf, Clasico Tapatio lead Jornada 16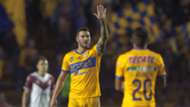 Two weeks left! There's so much to get to, so let's dive right in.
Here's what to watch in Liga MX Jornada 16:
---
Match of the Weekend ... Tigres vs. Necaxa
---

Two weeks left in the season and Necaxa is in the match of the weekend? What happened? For one, manager Nacho Ambriz's cautious style has paid off with the team losing just three times so far this season. The defense, anchored by Igor Lichnovsky, has allowed just 12 goals this tournament. Only Monterrey, Tigres' crosstown rival who they face in the final weekend of the season, have conceded fewer.
Ambriz also helped engineer a 1-0 victory over his former club America in the Estadio Azteca two weeks ago. If Necaxa was able to top the Aguilas at home, why can't it beat Tigres?
For one, it will be much tougher for attacking players like Carlos Gonzalez, Martin Barragan or Jesus Isijara to generate options against Tigres' own stingy defense. For another, Tigres is yet to drop a result at home this season, and avoiding defeat would mean an undefeated record at home during the entire regular season.
Still, Necaxa is convinced it belongs in the Liguilla and is looking to get a result against Tigres to reserve its place at the big party.
"We're happy with the position we're in but still thinking we can improve, move up in the standings," Necaxa fullback Brayan Beckeles said this week. "We know that every match at this time of year is difficult. A lot of us are playing to qualify, others are picking up points (to avoid) relegation and I think everyone is playing for something. It's the great thing about the tournament."
---
It's a big weekend for ... Diego Torres and Xolos
---

Fans in Tijuana have become accustomed to seeing their team in the Liguilla, with Xolos finishing atop the regular season table in the past two seasons under coach Miguel Herrera. After Herrera and several key players departed this offseason, it was obvious things would be tougher for Tijuana. Coach Eduardo Coudet initially struggled but had his team playing better soccer and within striking distance of the top eight.
Then, he and the team abruptly went their separate ways with the club thrusting Diego Torres into the interim role. It's not an easy close to the season for Xolos, who host Leon late Friday before traveling to take on Toluca. Xolos have history with both opponents. Leon and Tijuana are surprisingly fierce rivals given the distance between the two clubs, but familiarity from both the second division and meeting in Liga MX after each earned promotion has led to fans of both clubs holding a special place in their heart for the other. And Tijuana's playoff battles with Toluca when Xolos won the league in the 2012 Apertura have intensified contests since.
More relevant, both Leon and Toluca are strong teams in the Liguilla positions who often are able to play good soccer. Torres surely didn't want to look at his assignment and see the league's second-most potent attack coming to town. He'll have to find some way to keep Golden Boot leader Mauro Boselli and wingers Elias Hernandez and Andres "Rifle" Andrade for Xolos to stay in the playoff hunt. The fans at Estadio Caliente will be expecting it. If Xolos can't get into the Liguilla, they'll put the blame on ownership's decisions.
---
Keep an eye on ... the Clasico Tapatio
---

Chivas' two-match winning streak has set off an accurate but mostly hilarious series of articles about how Chivas technically could qualify for the playoffs after being left for dead weeks ago when they were sitting in the basement of the league. The postseason flame may still flicker for Chivas, but there are so many things they'd need to happen that it still is wildly implausible for the team to make it in. Even so, the recent uptick in form is reason to believe they can play spoiler to Atlas' own playoff charge (Atlas sits eighth with 21 points, while Chivas are 14th with 15 points) and provide at least some boost to their supporters.
"We have to win the Clasico for the fans' dignity, so they have something to celebrate," attacker Rodolfo Pizarro said Thursday at a news conference.
The mood across town is different. Atlas is celebrating the return of Rafa Marquez and earning points to get out of the relegation race that has loomed over its tournament. But while Los Zorros have avoided defeat in their past three matches, a better showing may be required to top Chivas at the Estadio Chivas. A draw with Queretaro last week was a disappointing result and the midweek stalemate with Tigres in a make-up of a postponed match was a good result but any chance of going all out for three points went out the window when Ravel Morrison was sent off early for a bad tackle. Both he and goalkeeper Oscar Ustari, who suffered a gruesome knee injury, are out for the Clasico.
Neither Guadalajara side will be entirely happy with the tournament, so the team able to hold bragging rights will have a place to start building in the upcoming campaign — and perhaps a decent boost ahead of an unlikely playoff run.
---
Quote of the Week
---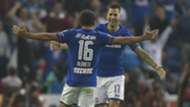 "We're confident we can correct our errors, we've gone through bitter and positive experiences. We're ready." - Cruz Azul defender Adrian Aldrete
Cruz Azul visits Morelia, a team that has ended its season several times during the past decade, with its Liguilla spot on the line. La Maquina currently is out of the top eight because of goal difference. A loss means snapping its postseason drought would be out of its hands.