Simba
Lechantre asks referees to protect his players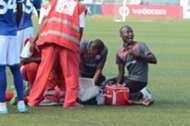 Simba Head Coach Pierre Lechantre wants referees to protect his players especially Emmanuel Okwi Goal can reveal.
Okwi who was fouled in Simba's match versus Ruvu Shooting by defender Mau Bofu and failed to complete the match. 
Speaking to Goal Lechantre said that the act done to his player on the game against Ruvu Shooting felt like war and not a football game that needs fair play.
"It was a very serious act of threatening a person's life, but we thank the referee that when he saw it he punished the culprit" he said.
Okwi was elbowed by Ruvu Shooting defender Mau Bofu during the match requiring immediate treatment and failed to finish the match with Laudit Mavugo replacing him.