I-League
Kolkata derby: Mohun Bagan's Sankar Lal Chakraborty - Khalid Jamil is more experienced than me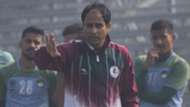 Mohun Bagan coach Sankar Lal Chakraborty chose to praise their opponents East Bengal and their coach Khalid Jamil ahead of the high profile game this weekend.
Bagan, who won the Kolkata derby earlier this season, haven't been in the best of forms while East Bengal too have won just a single match in their last four outings. However, the Red and Gold side are six points ahead of Bagan though the Green and Maroons have a game in hand.
"East Bengal are a team ahead of us in all facets. After losing to us, they have been unbeaten. Their coach Khalid Jamil is way more experienced than me and has been in the Indian football scene for more than a decade. He is a title-winning coach. They are playing good football and that is why they are ahead of us which reflects on the table," said Chakraborty.
Since taking over from Sanjoy Sen, Chakraborty has had mixed fortunes with a win and a loss under his belt. He also gave an update on whether Sony Norde will be handed a start this weekend.
"I enjoy the challenge. It is exciting to work under these circumstances. The challenge will be to return to winning ways. There is a chance that Sony (Norde) might play but if he doesn't we move forward with some other player," he mentioned.
Chakraborty was asked to share his thoughts on whether the team could possibly pick three points against East Bengal and do the double in the I-League.
"I have nothing personally attached to it (the result). It is about the team. I cannot say if we can win. However, we will try to win and if we do, the I-League title dream might be possible. But there is no point thinking of championship or a top four finish. We are taking it match-by-match for the rest of the season," he said.
Akram Moghrabi is the latest addition to the squad and Chakraborty believes that the sooner the former Nejmeh striker adapts to the new environment in Kolkata, the better it is for Bagan.
"The team combination will take time. The faster he gels with the players, it is better for the team," opined Chakraborty.