Transfers
Klopp watched Van Dijk alternatives '500 million times' and wasn't convinced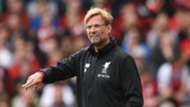 Jurgen Klopp says Liverpool watched Virgil van Dijk alternatives "500 million times" over the summer but felt none of the defensive options were suitable.
Having faced questions regarding their struggles at the back in 2016-17, the Reds were expected to bolster their ranks once the transfer window opened.
Leicester 11/4 to beat Liverpool
They did bring in left-back Andy Robertson, but no centre-half arrived at Anfield.
Klopp says that is because, despite months of intense speculation, he believes those already on his books are as good as those on the market – with concentration, rather than ability, proving to be an issue for his side at present.
He told reporters when quizzed on whether other options had been overlooked while pursuing Van Dijk: "No. We watched all of them 500 million times, and to cool the people down what if the new player doesn't hit the first ball and he makes exactly the same mistake?
"A mistake they all made in their life – but it is like, 'he is a £65 million signing, he will improve'. Why do you think the other one cannot improve? I don't understand that.
"For me it's really difficult always to come to your planet, visit you and say 'yeah you're right, there were five good options out there and we missed them because, I don't know, we wanted to spend the money anywhere else'.
"It is not that we ignore it - I said if there would have been a solution out there we would have done it. I had to make a decision and the decision was our boys are not worse than them.
"It is concentration. It is not a quality thing. But if there's no-one, no solution out there, and no real quality issue then you have to work on it and that is what we will do."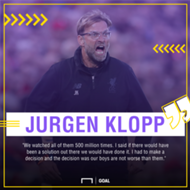 Klopp also refuted any suggestion that he continues to place too much trust in error-prone players, with the German coach eager to point out that no-one is perfect and that form can fluctuate.
He added: "I believe in trust. I trust people until they give me an opportunity or a possibility not to trust them anymore. That's how I understand life.
"My job is really to make the best out of this season and it's easy for me in a lot of moments to believe in this team – it's easy.
"Oh yeah, sometimes they make bulls**t, and we are not happy. Sometimes [there are] goals I'm angry about, and it's not the first one. Of course you wish we could have done differently, but that can happen. That's really life.
"Really, with all this about [our defenders] go out there and ask other teams whether they'd like to pick them. You would be really surprised.
"Let's say when I came here we started new and now we have this team. When I came in we were ninth and now, 'ooofff.' We are really on a good way.
"Sometimes we make mistakes because we are offensively that strong."