U20 World Cup
Khan banking on Mahlambi and Singh to lead Amajita at U20 Fifa World Cup finals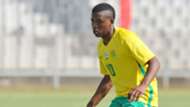 Former Kaizer Chiefs  assistant coach Farouk Khan is confident that Amajita will do well in the upcoming U20 Fifa World Cup which will be held in South Korea.  
The South African junior national team booked their spot at the finals after qualifying for the semi-finals of the U20 Africa Cup of Nations (Afcon) in Zambia. 
"You have players like (Phakamani) Mahlambi and Luther Singh playing regularly for their clubs. You have got a local contingent of players affiliated to PSL teams playing in the MDC which I think is a good opportunity for them week in and week out to improve," Khan told Goal .
"So, I don't think match fitness will be a problem for them. They are getting the fitness required at the highest level," Khan added.
The only challenge is that the MDC is now close and as much as most of the players were playing regularly in the competition, they will be starved off regular action for a month while the opponents they will be playing regular football for their respective teams.
Amajita were drawn in Group D with Japan, Italy and Uruguay last week.
"I think the challenge is at the World Cup, they will be facing countries that have players playing at the highest level and not just the reserve league and that's the difference," Khan continued.
"The difference is that a lot of the U20's you are going to come up against are playing in the Spanish La Liga teams and the top leagues in England and Germany," Khan said.
The Stars of Africa Academy head admits the long-standing problem in the country is players being discovered way too late.
"I think the problem that we have in South Africa is players being promoted too late. I think players should be playing in the first-teams at 19-20 years the latest," Khan bemoaned.