World Cup
KFC Moments of the Day: Mina keeps the Colombian dream alive, Januzaj shows his class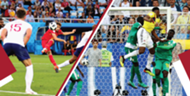 African hearts were broken as Colombia put Senegal guaranteed their elimination from the competition with a 1-0 win. Senegal were ultimatel eliminated by Japan on the fair play rule. Belgium topped their group with a 1-0 victory over England. But we pick just two moments that earned the right to be named as our KFC Moments of the Day.
KFC Moment 1
While Africa may have lost their last hope, fans will be happy to know that the Colombian party is still on. Colombia needed victory to ensure their place in the next round, while Senegal too hoped for a positive result.
However, with time running out in the game, the fanatical Colombian fans were allowed to dream once again as defender Yerry Mina came up with the decisive goal.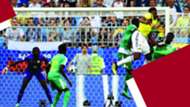 Following a well whipped in corner, the lanky frame of the 23-year-old bustled its way into the danger zone and made significant contact with the ball.
Mina's powerful header bounced off the floor and beat the despairing Senegal keeper hands down, sending players and fans into rapture as they celebrated the goal that would subsequently take the Colombians into the next round of the tournament.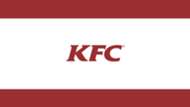 KFC Moment 2
The game between Belgium and England was a dead rubber with both sides having already qualified for the knockout out rounds, but there was the small motive of a top place finish at stake. This culminated in a rather dreary opening stanza, but what was apparent was that the game needed a touch of magic, and that's exactly what the fans received.
With Belgium pressing for a winner as they looked to top the group, Adnan Januzaj showed just the type of class that saw him leap onto the scene as a youngster as he showed great composure to find the back of the net.
The Belgium playmaker was picked out on the edge of the box, and what happened next was simply out of the top drawer. Januzaj managed to beat the defender with a touch of genius as he faked a shot only to then curl a left footed effort into the top corner past a diving Jordan Pickford.  
The goal was not only worthy of winning the game, but was most definitely deserved of being a KFC Moment of the Day.