A-League
Kerem Bulut without a club after parting ways with Turkish side Menemen Belediyespor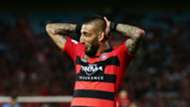 Australian striker Kerem Bulut is on the lookout for a new club after recently parting ways with previous side Menemen Belediyespor.
The former youth international had found form in Turkey with Menemen scoring nine goals across 30 appearances but didn't renew his contract with the club after they failed to earn promotion to the top flight.
Menemen finished second in the Turkish division, two points shy of Hatayspor, who earned the league title and a spot in the first division as a result.
While Bulut's time with the club was brief, it was a positive pit stop for the 26-year-old after a difficult stint in Germany with third-division side Wehen Wiesbaden.
"I'm afraid I've come to the end of my friendship with the Menemenspor club," Bulut said in an Instagram post.
"I tried to do my best on behalf of myself, and this team deserved a top league, but I believe it will come..."
Bulut was officially released by the club on May 18 and as yet there has been no indication of what lies ahead for the former Western Sydney Wanderer.
During his two brief stints in the A-League, Bulut endeared himself to fans by scoring five goals across his first nine games with the Wanderers.
Returning in 2016 for six games, he'd then fail to score but did go viral after wildly celebrating a strike that was disallowed for offside.