KPL
Kenyan Premier League goes into recess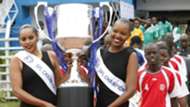 The Kenyan Premier League takes an 18- day recess after the round of 13 league matches played at the weekend to pave way for the Fifa international calendar.
Action will resume on June 17 as confirmed to Goal by KPL Chief Executive Officer Jack Oguda who explained that the international break will also double as the "mini break" as the league is behind schedule.
"This (international break) is what we will use as mid- season break because we started late in March and so the teams can use this as their mid-season break. Each of the 18- teams have played 13 matches and that means there are 21 round of matches to be played when action resumes, so we have a lot of backlog of fixtures."
Oguda however maintained that the June player transfer window won't be affected and will run from June 1- June 30.
The delay in the league kick -off was occasioned by the prolonged battle between Football Kenya Federation and the Kenyan Premier League over the modalities and expansion of the top-tier competition.