Kelantan
Bensoh's removal represent a chance for big change at Kelantan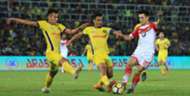 Only three round of matches into the new 2018 Super League season and there's already one name on the casualty list. Kelantan have decided to part ways with Sathit Bensoh after only securing one point from their first three matches of the season.
A loss to Melaka United on the opening weekend, drawing at home to Terengganu FC that was followed by a 3-0 beating at the hands of Pahang - turned out to be the final nail in the coffin for Bensoh as he leaves Kelantan firmly rooted at the bottom of the Super League standings, two points behind three league newcomers.
The Thai Bensoh was put in charge after being part of the team since last season, helping Zahasmi Ismail in preparing the team. The team that finished just one point ahead of Sarawak to narrowly escape relegation to the Premier League.
The make-up of the squad has not changd dramatically since the end of last season with experienced Norhafiz Zamani Misbah and S. Subramaniam leaving the squad. They were replaced by Amirizdwan Taj and the return from loan of Nik Shahrul Azim.
Kelantan also decided to only retain the services of Morgaro Gomis while the likes of Alessandro Celin, Abou Bakr Al-Mel and Mamadou Danso were discarded. In came Do Dong-hyun, Bruno Lopes, Ferdinand Sinaga and Cassio Francisco Jesus were added to the squad.
The change isn't massive and Kelantan, with the squad that they possess, were expected to struggle in the league this season. Perhaps not to the level of relegation but the team was widely accepted to be part of the strugglers in the season.
So, with just three matches played, the sacking of Bensoh may not have been completely the right choice. The lack of patience from the top management whenever a team is languishing down at the bottom of the table is a common theme all across the footballing world.
The recent revelations that Kelantan are still one of those teams that are still struggling to cope with the payments of salaries to the players past and present, shows just the huge amount of problems that are circling the association at the moment.
What the management need now is to know their expectations and align the next appointment to be proportionate to it. With the transfer window close now, any investment in the squad can only be done in April.
In all likelihood, what with their financial problems still remaining a big concern, splashing out the money in big numbers may not represent the best choice of decision. Perhaps what Kelantan need at the moment, is someone young with innovative ideas who can make the team better than it's individual components.
Time will tell if Kelantan will finally move with the times.