Malaysia Cup
Kelantan shocked JDT, PDRM held Melaka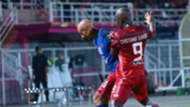 JDT were made to endure their second defeat in the 2018 Malaysia Cup campaign after Kelantan edged them 1-0 at Sultan Muhammad IV Stadium on Friday night.
Having already lost the first match of the campaign to MISC-MIFA, this latest defeat leaves JDT down in third spot but crucially are only a point behind their conquerors of the night.
Fernando Marquez missed several good chances to score for the visitors and they were punished last in the first half when Azrif Nasrulhaq brought down Khairul Rizam inside the penalty box.
Cristiano Santos did not waste the opportunity and easily converted the ensuing spot kick to give The Red Warriors the lead in Kota Bahru. In their desperation to protect the lead in the second half, two Kelantan players in Danial Haqim and Santos saw red but that did not stop them from picking up their first win of the campaign.
Over at Hang Jebat Stadium, Melaka came from behind to secure a 2-2 draw against PDRM to keep them in third spot in Group B. 
All the action came in the second half as PDRM produced the first goal of the night through Kim Woo-sub's spot kick in the 49th minute. The Cops would put more pressure on the home side when they doubled their lead in the 78th minute through Nabil Ahmad Lafti.
But Melaka took a leaf out of the comeback they suffered against PKNS FC last week and produced their own version of it. Ifedayo Olusegun reduced the deficit in the 86th minute before Yahor Zubovich scored the vital equaliser two minutes into added time.