COSAFA Cup
Kaizer Chiefs striker Ryan Moon wants to make South Africa proud at Cosafa Cup tournament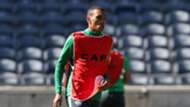 Kaizer Chiefs striker Ryan Moon has expressed delight after Bafana Bafana coach Stuart Baxter included him in the squad for the upcoming 2018 Cosafa Cup tournament.
The regional tournament will be staged in Polokwane this weekend, and the Amakhosi player says he wants to put the country ahead of his personal ambitions.
Moon exclusively spoke to Goal after the squad was announced on Tuesday evening, saying he is happy to be part of the team.
Although he will not join the national team set up for the first time under Baxter, the former Maritzburg United forward has praised the English mentor.
He said the coach has taught him new elements of the game and has helped him to grow as a lethal forward whilst saying he is looking forward to learning more in the camp.
Moreover, the 21-year-old said he wants to put the lessons learned from experienced club teammate, Bernard Parker into practice during the regional tournament.
Bafana will want to dethrone Zimbabwe as Cosafa Cup champions, and the ex-Amakhosi boss will look to the striker for goals as they want their fifth regional crown
"Yeah I am excited to get a call-up and I am honoured to represent my country. I am looking forward to the tournament," Moon told Goal .
"It feels good and I'd like to settle in and do well, and to win it will be a special moment for me," he reacted.
"However, I will put the country ahead of myself. I just want to do well and learn from the guys because we have a great team and it is important to do well in the tournament," said the elated forward.
"It's not the first time working with coach Baxter and it is always good to join his team and get to learn a few things from him and the team," he praised the coach.
On what Parker taught him at club level, the striker credited the Boksburg-born hitman for sharing ideas when it comes to positioning himself in the box.
"Yeah, he [Parker] does well in teaching us as youngsters and we will keep working hard and maintain that level of consistency," he noted.
"He is experienced and is good in teaching us and the guys in matters such as movements, positioning and many aspects of the game," he said.
"I think I will review my PSL season after the Cosafa Cup because the focus is with the national team and the season is behind us," he continued.
"However, I want to win trophies with the club, make the supporters and our families proud once again," said the man who netted five goals in 18 appearances for the Soweto giants in all competitions.
"For now, it is important to do well in the tournament and it is crucial to make the nation proud," he concluded.