Steve Komphela
Kaizer Chiefs coach Steve Komphela feels aggrieved by the Christmas break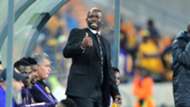 Kaizer Chiefs head coach Steve Komphela has lamented the timing of the Christmas break following his side's win over Ajax Cape Town on Saturday night. 
A Dumisani Zuma goal was enough to take Amakhosi to 22 points after 15 league games, and Komphela is hoping that they can keep up the momentum going into the second half of the campaign. 
Chiefs resume the season with a clash against SuperSport United in January, and Komphela wants his charges to come back with the same energy they showed against the Urban Warriors. 
"We hope we'll keep up the momentum, but we now have to go off for a minor recess and be back for the game against SuperSport. It feels more like an international break where you are just about to get your momentum and then there is a stoppage'" Komphela told the media after the game.
"We'll have to come back again and try fight and get into SuperSport with the energy we showed against Ajax. It's going to be very difficult," he said. 
Despite eventually walking away with the three points against Stanley Menzo's side, Komphela felt Chiefs were supposed to wrap up the game very early in the game given the goalscoring chances they created on the day. 
"In the first half we made quite a number of entries, but there was nothing to show [in terms of goals]'" he continued. "In the second half' I thought we should have made our lives a bit easier [by breaking the deadlock) earlier, but that's the name of the game," added Komphela. 
Komphela admitted Zuma scored a beauty of a goal, and although he admitted that Chiefs didn't look structurally co-ordinated, the 50-year-old was pleased with the three points collected in Durban. 
"It was a beautiful goal'" said Komphela of Zuma's goal.
"At times it looked like structurally we were not well co-ordinated, but we are delighted with the victory'" concluded Komphela.