United States
Julie Ertz has incredible reaction after news of Eagles' Super Bowl berth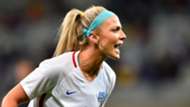 U.S. national team star Julie Ertz was not able to watch her husband, Eagles tight end Zach Ertz, play in Sunday's NFC championship game. She had her own game to take part in. 
But after the U.S. national team's 5-1 victory against Denmark in San Diego, the midfielder learned about Philadelphia's 38-7 win over the Minnesota Vikings on the other side of the country. She teared up as she found out they were headed to Minneapolis for the Super Bowl.
"I was kind of looking around for someone to give me confirmation and answers, and I feel like I needed it from at least like three people to make it feel real," Ertz said, according to ESPN. "Yeah, I just got super emotional."
Zach starred for the Eagles in the blowout win, finishing with eight catches for 93 yards. Julie put on a show of her own as she scored the match-winner for the U.S. in the 19th minute.
Given the start times for both of their games, the couple were unable to watch each other play. Julie didn't receive any updates while on the pitch, and she didn't get a break in action to check in as she was one of five American players to play 90 minutes.
While walking off the pitch, Julie appeared overwhelmed with joy when she was told the final score. Then she got hold of her phone and saw a simple text from Zach that said they were heading to the Super Bowl followed by a FaceTime conversation from inside the Eagles' locker room.
"He FaceTimed me right when I got in there," Julie said. "So, of course, I was again really emotional but super excited.
"I'll call him a little bit later. He's going to celebrate with the boys and cheer. They're enjoying their moment tonight. But I know for them, it's back to business tomorrow."
Julie's initial reaction to finding out about the win instantly went viral on social media.
As soon as the whistle blew here in San Diego, we had some good news for @julieertz...@ZERTZ_86 & the @Eagles are heading to the @SuperBowl! pic.twitter.com/dI5MvG53VR

— U.S. Soccer WNT (@ussoccer_wnt) January 22, 2018
And of course it got back to Zach from inside Lincoln Financial Field.
Zach Ertz overcome with emotion while watching a video of his wife @julieertz watching and reacting to the #Eagles game. pic.twitter.com/MBVhdP2ffA

— Geoff Mosher (@GeoffMosherNFL) January 22, 2018