Africa Women Cup of Nations
Joseph Brain laments Cameroon's profligacy after Nigeria semi-final loss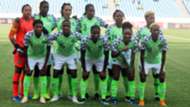 Joseph Brain has lamented Cameroon's wastefulness in front of goal after a 4-2 loss on penalties to Nigeria stopped them from reaching their third Africa Women Cup of Nations final in a row.
The central Africans failed to profit from their dominance against holders as they could not score from the efforts of Enganamouit Gaelle, Ajara Nchout and Onguene Gabriella inside 120 minutes.
Despite the loss, the gaffer insists his side will recover in time from the loss and is confident they will defeat Mali to qualify for the World Cup finals in France.
"I talked about revenged before the game, and everyone saw that we tried our best," Brain told media.
"We did all that we can during the game but it was decided on penalties. We had 120 minutes to play and we didn't take our chances when we had them.
"We are still going to a World Cup qualification match in the third place [against Mali] but my players are sad and they cry over the loss all through the night.
"I probably will cry along with them and after that, we have to play again."