AFC Cup
Longhi happy tactical change worked for JDT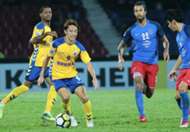 Johor Darul Ta'zim gave themselves a fighting chance to qualify to the knockout stage of the 2018 AFC Cup after securing a late 2-1 win against Tampines Rovers on Wednesday.
Safawi Rasid had opened the scoring early in the first half but had to be content with going into the half time break on level pegging after La'Vere Corbin-Ong's handball allowed Tampines to get a penalty kick.
Hazwan Bakri came up with the winner with the clock ticking down when his run was superbly picked out by Ignacio 'Natxo' Insa as JDT moved level on points with Persija Jakarta and Song Lam Nghe An.
JDT's head coach Raul Longhi pointed to the tactical change in the second half when he took off Safiq Rahim for Hariss Harun as the pivotal point that altered the result in favour of the home side.
"All the players played well and carried out their respective responsibilities on the pitch. The three points were very important for us. We changed the formation from 4-3-3 in the first half to 4-2-3-1 in the second half," said Longhi after the match.
Longhi was also mindful of the tight schedule that JDT have before the upcoming international break. With the important but potentially tricky away FA Cup knockout tie against UiTM FC coming up on Sunday, there was a need to keep an eye on that.
"We had to switch our playing style because we have one more important match to play in 72 hours' time. The match against UiTM this Saturday is very important, and it is very important for me to rotate the players so they can be ready for the game."
"I don't want to talk about the next AFC Cup match because for me the most important thing is the match against UiTM. For now, several players need to undergo a recovery process in preparation for the match against UiTM," added Longhi