John Mensah
John Mensah open to Ghana return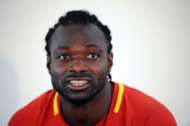 Veteran Ghana defender John Mensah has not given up on playing for the national team again.
The 34-year-old's last major involvement with the Black Stars came at the 2012 Africa Cup of Nations, but an unstable club career in recent times has made him rather undesirable to the 2015 Afcon finalists.
A move to Swedish second tier side Athletic FC United in 2016 yielded little, same as a preceding transfer to Slovak outfit FC Nitra.
"I've not quit football; not now," Mensah said on Agoo TV.
"After my time with Lyon, I went to Sweden but injuries did not allow me to play a match for them. 
"I had to leave after the contract ended in November 2016, so I came back home.
"I have been undergoing some special training. I'm okay now but because I've been inactive, I'm not eager to return to the national team now.
"I cannot expect to be called while in this current state. 
"I'm hoping to get back to club football abroad then we see what happens."
Mensah, once captain of the Black Stars, played at the 2006 and 2010 World Cup tournaments, in addition to the 2002, 2006, 2008 and 2012 Afcon tournaments.
At club level, he has also been on the books of Swiss outfit Bellizona, Italian teams Genoa, Chievo Verona, Modena and Cremonese, French sides Lyon and Rennes and English club Sunderland.