Transfers
James to dictate his own future after 'really tough' Real Madrid exit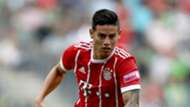 James Rodriguez admits he found it "very tough" to leave Real Madrid, but is determined to dictate his own future at Bayern Munich.
The Colombia international was allowed to leave Santiago Bernabeu for the Allianz Arena in the summer of 2017 after struggling to hold down a regular role under Zinedine Zidane.
Both he and his family initially struggled to come to terms with the snub, having proved his worth when given the opportunity to impress, but a loan spell in Germany is being embraced.
James is due to spend two seasons with Bayern before another career crossroads will be reached, and the 26-year-old intends to be the one calling the shots when another decision is made.
He told El Chiringuito: "I don't know if Madrid miss me. I did my work well and with all my heart. I was always eager, and everyone could see that when I was doing things well, I could make a difference.
"All the people who were close to me offered great support, such as my ex-wife, mother… they all supported me a lot and I'm eternally grateful to them.
"For now, I'm only thinking about Bayern. No-one knows what'll happen in the future.
"My present is at Bayern, and it depends exclusively on me if I'm going to leave or stay."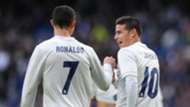 James added on his parting of ways with Real: "I knew I was going to leave the club.
"That last game [against Sevilla] was like me giving my thanks to everyone. It was very tough.
"When I got home, I told my four-year-old daughter: 'Come here, I want to talk to you.'
"I told her: 'We're going to live in another city. You're going to change schools, we're not going to live in this house anymore,' and she cried a lot.
"That was very hard. It broke my heart. I always arrived in the dressing room with a smile and had good vibes with all my team-mates. I think they loved me like I loved them.
"With the Real Madrid fans, there was a real bond between us and I think they loved me like I loved them too.
"The fans always told me: 'James, stay.' I felt a lot of affection for them. I love the Madrid fans very much because they, like me, always want to win."
James has impressed since swapping Madrid for Munich, with his exploits standing in stark contrast to the struggles currently being endured by those he left behind in the Spanish capital.
He has made 20 appearances across all competitions this season, contributing three goals and five assists.