Chelsea v Barcelona
It will take all 11 players to stop Messi – Caballero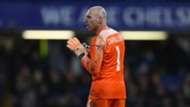 Chelsea goalkeeper Willy Caballero won't play against Barcelona on Tuesday, but he still offered his advice on how to stop his countryman Lionel Messi.
The Blues go into their huge last-16 first-leg tie with renewed confidence after winning their last two games, but will still rank as underdogs against Spain's leading side. 
The 36-year-old goalkeeper found himself on the winning side against Barcelona while lining up for Manchester City in the Champions League group stage last season, and offered his advice for stopping Messi and Co. 
"He's unpredictable. When you are watching a game on TV the commentator might say, 'He's going to do this or that' but the reality is he is capable of doing things even better or faster or more unpredictable than people think," Caballero said after his saved penalty helped Chelsea to a 4-0 win over Hull City in the FA Cup fifth round at Stamford Bridge. 
"It is very hard work to control him but it doesn't come down to a goalkeeper but the whole team. It is the coach who will decide how to plan for the game. Moreover, having players like Pedro or Cesc [Fabreas] who have played there [at Barcelona] we don't need to discuss too much their style.
"Without doubt for those of us that have played in La Liga we know more than enough about this team, it goes without saying what this team can do.
"It doesn't matter if they change players or coaches, their way of playing remains the same, but it also means the way of causing them problems remains the same.
"It's just a memory [beating Barca with Man City] and for sure I will be on the bench come Tuesday so maybe I can tell them what it's like to beat Barca."