Transfers
'It doesn't depend on me!' - Ronaldo says Real Madrid control his future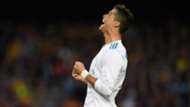 Cristiano Ronaldo insists that his future is entirely in the hands of Real Madrid.
The 33-year-old has enjoyed another prolific season at Santiago Bernabeu, scoring 44 goals in 43 games, with the Champions League final against Liverpool looming on Saturday.
Nevertheless, rumours persist that Real are intent on signing Paris Saint-Germain superstar Neymar this summer.
Goal understands that the former Barcelona attacker is desperate to move to Real, just a season after making a world-record €222 million (£200m/$262m) transfer to France from Camp Nou.
Were any deal to be completed, it is likely that Neymar would supplement, rather than replace, the threat of Ronaldo, who shows no sign of slowing down as he enters the twilight of his career.
Ronaldo, though, accepts that his future may not depend on him.
"I'm fine, I'm happy. I can't complain. On Saturday, we play another final. The fans are with Cristiano. I'm fine here, but there are things that do not depend on me," he told Spanish television show El Chiringuito de Jugones.
"In my house, yes [things depend on me], but not in Real Madrid's house [who make their own decisions as a club]."
One avenue that is certainly closed for Ronaldo is a return to Manchester United, with Jose Mourinho insistent that Madrid would never strengthen a European rival.
Indeed, he believes that, were the Portugal international to leave, he would likely move to the United States to cap a trophy-laden career.
"He has to stay until the moment they authorise him to go and play one year in America or anywhere else that he wants to enjoy. It is a closed door," Mourinho said.
Ronaldo, though, still holds strong feelings regarding United, and claimed earlier this week that he would rather face the Red Devils in this weekend's Champions League final than Jurgen Klopp's side.